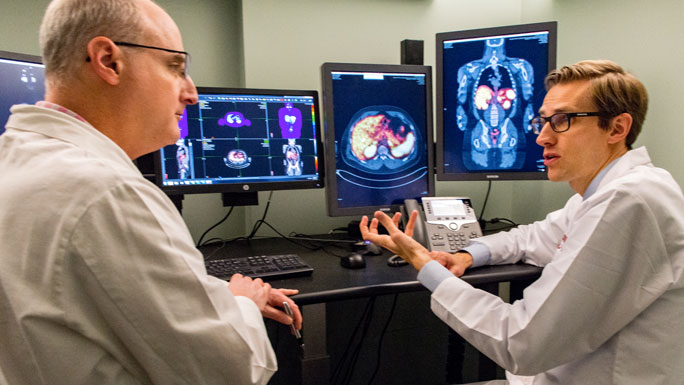 Offering a Full Range of Treatment Options for Neuroendocrine Tumors
At the University of Chicago Medicine, patients with neuroendocrine tumors (NETs) receive innovative treatments from internationally-renowned specialists in the field, including the newest targeted therapies and surgical techniques that can destroy, remove or shrink even the most advanced tumors. Physicians in our NET program design individual treatment plans for each patient based on several objective, evidence-based factors, as well as on the wishes of the patient. Our specialists follow and reassess patients rigorously during and after their treatments, with the constant aim of improving patient care through the discovery and application of novel diagnostic tools and treatments. Numerous options exist for treating neuroendocrine tumors, and your doctor will help you decide which one will be most effective.
Surgery
Surgically removing a neuroendocrine tumor is almost always the preferred option and can often be done even if your cancer has spread to other parts of the body. Depending on where the tumor is located, surgeons may remove all or part of the organ that harbors it—for instance, for NETs in the stomach, your doctor may remove all or part of the stomach.

UChicago Medicine physicians emphasize surgical techniques that are proven to minimize the time it takes patients to recover, such as minimally invasive or robotic techniques. When required, they may also use open surgery to remove NETs.
Surgery for NETs That Have Spread to the Liver
When neuroendocrine tumors spread outside of their original location, they most commonly seed to the liver. The amount of tumor in the liver is directly proportionate to your prognosis, which is why NET specialists at UChicago Medicine design a comprehensive treatment plan to destroy and remove NETs using the following techniques:
Systemic Therapy
When other treatments may not be suitable, cancer cell-killing drugs may be recommended. The newest advances in targeted therapy for NETs are available at UChicago Medicine. These medications are increasingly taken by mouth and have less side effects when compared to older chemotherapy courses.
Radiation
Peptide Receptor Radionuclide Therapy (PRRT)
PRRT is an innovative treatment in which synthetic proteins capable of targeting specific cells are combined with radioactive material. This creates radiopeptides, which are then injected into a patient's bloodstream to deliver targeted radiation to NET cells. PRRT takes a total of eight months, with patients receiving infusions every two months. UChicago was one of the first centers in the nation to offer this therapy and has since developed a very robust and experienced PRRT treatment program.
Intra-Arterial Therapies
When surgical removal of liver metastases is not indicated or desired, liver-directed therapies can help treat patients with NET and liver involvement. These therapies include:
Doctors use microwaves, or radio waves, to heat and destroy the tumor cells. Both treatments are minimally invasive, meaning the radiologist guides a needle through the skin into the tumor in order to deliver a heating electrical current or microwaves.
Both TACE and HAE are procedures for treating NETs found in the liver. HAE is a minimally-invasive procedure that involves using a catheter to inject material that blocks blood flow to a tumor, thereby starving its ability to grow. TACE is a similar procedure, but the material used in the blockage also delivers chemotherapy medication.
In this procedure, a medical radioactive isotope (Yttrium-90) is used to block the tumor's blood supply and to attack the cancer cells.
Clinical Trials
UChicago Medicine is at the forefront of medical and surgical discoveries. If you're seeking a clinical trial targeting neuroendocrine tumors, please check our trials database or speak with your doctor about whether participating in a study is right for you.