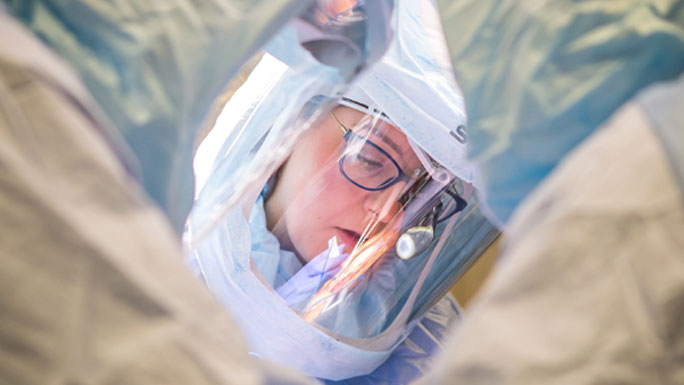 Bone and soft tissue cancer can be frightening for children and adults. However, the latest treatments available at the University of Chicago Medicine — from innovative chemotherapy to limb-sparing surgery — can reduce pain, fight the disease and preserve the ability to walk, work or play.
Multidisciplinary Team, Combination Therapies
Our orthopaedic oncology program includes respected experts in orthopaedic surgery, adult and pediatric oncology, diagnostic and therapeutic radiology, radiation oncology, and pathology. Together, this multidisciplinary team designs the best treatments for patients with bone cancers and soft tissue sarcomas (e.g. osteosarcomas, Ewing sarcomas, synovial sarcomas, liposarcomas, fibrosarcomas).
Bone cancer treatments often combine several types of therapies. We specialize in leading-edge care including:
Radiation (external or insertion of radioactive implants, known as brachytherapy)
Clinical trials of novel therapies, including Phase 1 trials
Bone grafting
Limb-sparing surgery for even the most difficult-to-remove tumors
Computer-assisted surgery which tracks tumor removal in real-time with 3D X-rays
State-of-the-art implants for bone reconstruction
Complex bone and joint replacement
Our medical and radiation oncologists provide the most advanced forms of chemotherapy and radiation available. In fact, they are involved in developing, refining and testing the latest drug and radiation treatments.
When surgery is needed, it's comforting to know that UChicago Medicine orthopaedic specialists are nationally recognized for expertise in removing bone and soft tissue tumors and reconstructing the affected limb. Our surgeons are skilled in saving limbs when tumors are large or difficult to remove. In all cases, we strive to preserve as much healthy bone, joint surface and tissue as possible. Our goal is to return patients to their maximum function and quality of life.
Pediatric Care
For information about bone cancer and sarcoma care for infants, children, teens and young adults, visit our Comer Children's Hospital web pages about pediatric sarcomas: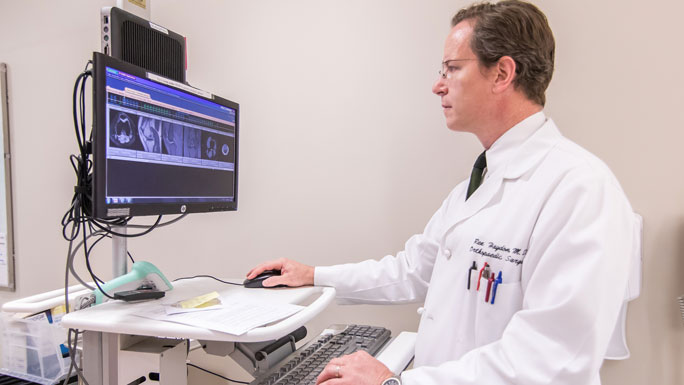 Transforming Patient Care Through Research
The same specialists who bring comprehensive and compassionate care to patients with bone cancer are working to advance diagnosis and treatment through research. Our database of patients with bone and soft tissue cancer extends back almost four decades, giving us vital information for clinical research in patients with these rare tumors.
In our basic science laboratories, investigators are looking at genes that control the spread of cancer and are focusing on new approaches to bone regeneration. These studies could lead to new diagnostic and therapeutic approaches for bone cancer.
Our bone cancer program is a core part of the internationally recognized University of Chicago Medicine Comprehensive Cancer Center, one of only two National Cancer Institute (NCI)-designated Comprehensive Cancer Centers in the state. Here, the brightest minds in research are focused on cancer discoveries — working together to bring breakthroughs from the lab to the bedside as quickly as possible.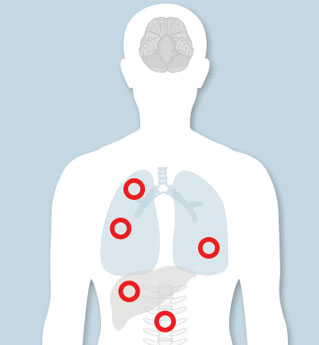 Treating Metastatic Cancer with Optimism and Hope
If you have been diagnosed with metastatic cancer, more therapies may be available to you than you think. Our cancer specialists are eager to help you understand all of your options.
Limited Metastatic Cancer Program
Convenient Locations for Cancer Care
Request an Appointment for Cancer Care
The information you provide in this form will enable us to assist you as efficiently as possible. A representative will contact you within one to two business days to help you schedule an appointment.
For your convenience, you can make a virtual visit appointment with a cancer expert in the following ways:
– Schedule a virtual video visit to see a provider from the comfort of your home
– Newly diagnosed patients can schedule a 15-minute introductory Express Expert Cancer Opinion virtual session at no cost
– Request an online second opinion from our specialists
To speak to someone directly, please call 1-855-702-8222. If you have symptoms of an urgent nature, please call your doctor or go to the emergency room immediately.
For Referring Physicians
To refer a patient for cancer care, please call UCM Physician Connect at 1-800-824-2282.