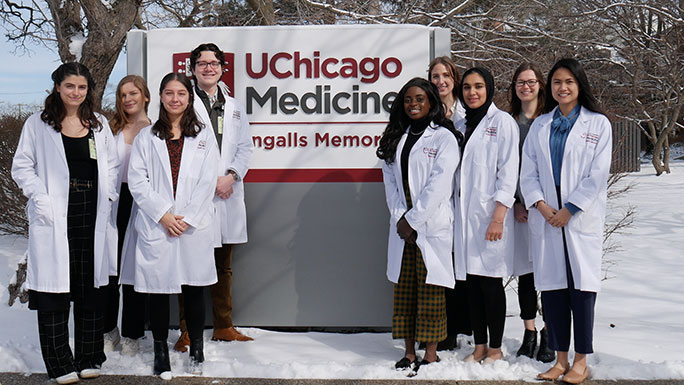 The UChicago Medicine Ingalls Memorial Dietetic Internship Program has over 40-years of experience and accepts nine interns each year. In 2016, the University of Chicago Medicine and Ingalls Health System joined forces in an alliance that combined a top community hospital in Chicago's Southland with one of the country's leading academic medical institutions. Harvey-based Ingalls is now part of the UChicago Medicine brand: UChicago Medicine Ingalls Memorial. The transaction joins assets to create a hospital system that is stronger combined than each institution is individually.
The program will ensure that dietetic interns follow the standards established by the Academy of Nutrition and Dietetics and the Accreditation Council for Education in Nutrition and Dietetics (ACEND) in regards to education and professional conduct. The internship will prepare graduates to work with culturally diverse groups and serve their communities as highly qualified professionals in the field of dietetics.
Requirements and Process to Become a Registered Dietitian Nutritionist
Educational Requirements
Effective January 1, 2024, the Commission on Dietetic Registration (CDR) will require a minimum of a master's degree to be eligible to take the credentialing exam to become a registered dietitian nutritionist (RDN). For more information about this requirement, visit CDR's website.
To align with CDR's increased eligibility requirements, the Accreditation Council for Education in Nutrition and Dietetics (ACEND) is requiring that all ACEND-accredited dietetic internship programs either admit only individuals who have a verification statement from a Didactic Program in Dietetics (DPD) or Foreign Dietitian Education Program (FDE) and have earned at least a master's degree granted by a U.S. accredited college/university or foreign requirement, AND/OR has a process to ensure interns complete a graduate degree by the end of the program.
The UChicago Medicine Ingalls Memorial Dietetic Internship Program is a hospital-based dietetic internship program and is currently exploring these two options to meet both ACEND's and CDR's requirement. Updated information will be posted to this website in October 2022. Please contact the program director to learn more about these two potential options (for example – partnering with a graduate program (20-month program), or accepting only those with a graduate degree (10-month program).
Cheryl Bacon, MS, RDN, LDN, FAND
Director of the Dietetic Internship
708-915-5723
Cheryl.Bacon@ingalls.org
Commission on Dietetic Registration Credentialing Exam
Graduates who successfully complete the ACEND-accredited Dietetic Internship program at UChicago Medicine Ingalls Memorials will be eligible to apply to take the CDR credentialing exam to become an RDN.
State Licensure
In most states, including Illinois, graduates also must obtain licensure or certification to practice. Find more information about state licensure requirements.
Learn more information about educational pathways to become a RDN.
Frequently Asked Questions