Skip to content
University of Chicago Medicine honored with 2023 Bernard J. Tyson National Award for Excellence in Pursuit of Healthcare Equity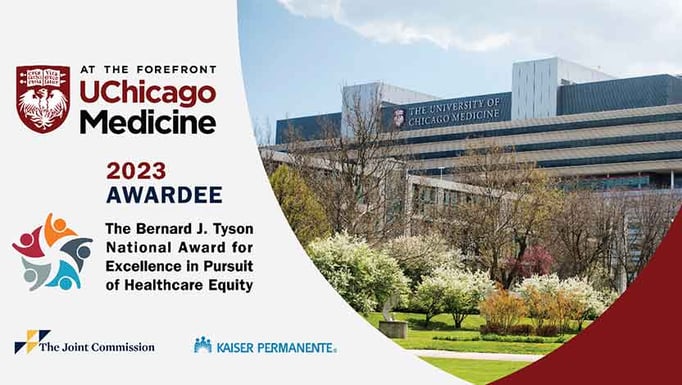 The Joint Commission and Kaiser Permanente have announced the University of Chicago Medicine as the recipient of the 2023 Bernard J. Tyson National Award for Excellence in Pursuit of Healthcare Equity.
The award recognizes UChicago Medicine for its Systematic Treatment and Management of Postpartum Hypertension (STAMPP-HTN), an initiative to improve postpartum care for women with hypertensive disorders of pregnancy.
The initiative included a series of interventions that significantly improved postpartum patient visit adherence and blood pressure rates and reduced the disparities between Black and white patient populations.
The award, named for late healthcare advocate Bernard J. Tyson, former Kaiser Permanente Chairman and Chief Executive Officer, recognizes healthcare agencies and their partners that lead initiatives that achieve a measurable, sustained reduction in one or more healthcare disparities.
UChicago Medicine, an academic health system with a predominantly Black and publicly insured patient population, identified a disparity between its Black and white patient populations. At baseline, the rate of six-week postpartum follow-up visits for blood pressure check was:
30% for Black patients
53.5% for white patients
In January 2019, UChicago Medicine implemented a series of interventions to address the disparity. The effort included patient and provider education, updated clinic protocols, distribution of STAMPP-HTN kits to patients and more.
After implementation of these interventions, in September 2019, the rate of postpartum follow-up visit attendance improved to:
33.5% for Black patients
59.4% for white patients
Later, the STAMPP-HTN team made telehealth appointments available to patients, alongside continued use of the previous series of interventions. These measures enhanced the rate of postpartum follow-up visit attendance to:
76.3% for Black patients
76.7% for white patients
This left only a 0.4% disparity between Black and white patients.
The addition of the final intervention, a remote patient monitoring program, boosted the rate of postpartum follow-up visit attendance to 83.1%, with similar rates among Black and white patients, eliminating the disparity between the populations.
Patients' clinical outcomes also improved significantly. After implementation, fewer patients experienced a blood pressure of 140/90 or higher at the first postpartum blood pressure check, compared with preintervention (18.5% vs 39.1%, P<.004). The effect size did not differ by race.
"The University of Chicago Medicine's accomplishments with the STAMPP-HTN program are exemplary," said Jonathan B. Perlin, MD, PhD, MSHA, MACP, FACMI, President and Chief Executive Officer of The Joint Commission Enterprise.
"UChicago Medicine has shown that healthcare disparities can be improved – and even eliminated – with intention in determining mechanisms of disparity and perseverance in sequentially addressing them," he said.
"We congratulate UChicago Medicine for their remarkable success in addressing an important maternal health issue and for their persistence in ensuring that their practice interventions not only improved outcomes but did so in a way that eliminated a recognized inequity by race," said Andrew Bindman, MD, Executive Vice President and Chief Medical Officer for Kaiser Permanente. "This is the type of innovation and forward progress we had in mind when we established this award in Bernard's name."
"Our effort to reduce disparities in obstetrical care includes a successful STAMPP-HTN project with a focused effort in the management of postpartum blood pressures," said Sarosh Rana, MD, MPH, Professor of Obstetrics and Gynecology and Director of the STAMPP-HTN program at UChicago Medicine. "Such programs are practical, scalable interventions that can make life-saving changes for our patients."
"We are committed to addressing and reducing health disparities among the diverse groups of patients who come to UChicago Medicine for medical care and have taken steps across our enterprise to identify and target these critical issues," said Stephen Weber, MD, Executive Vice President and Chief Medical Officer at UChicago Medicine.
Earlier this year, UChicago Medicine received a "citation of merit" from the American Hospital Association's Quest for Quality program for STAMPP-HTN.
UChicago Medicine will be honored by the Joint Commission and Kaiser Permanente during a virtual ceremony on Monday, November 27, 2023.
Maternal-Fetal Medicine Articles & News