Skip to content
Learn about our prenatal classes for parents, grandparents and support partners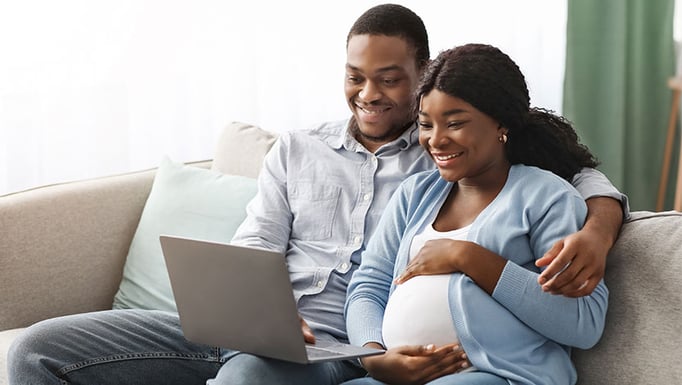 Whether it's learning how to breastfeed, what to expect during labor, how to perform infant CPR, or how to install a child's car seat, the University of Chicago Medicine offers a range of online classes for every member of the family.
Ten prenatal family classes are available for soon-to-be parents, grandparents and support partners. Certified Childbirth Educator and prenatal nurse instructor Evelyn Turner, MSN, RN, teaches most of the classes, while several are taught by other UChicago Medicine specialists.
"These classes are open to the community, and aren't just for University of Chicago Medicine patients," said Turner. "We want to reach as many people as we can."
Pre-pandemic, the classes were in person, but now that classes are offered virtually, there are two options.
In the first option, students can sign up for a class and learn at their own pace, with course material such as videos, handouts and audio instructions provided in advance. Once the self-paced class is complete, students have the opportunity to register for a live, Zoom question-and-answer session.
The second option is a live, virtual class led by an instructor. Most classes (except for Lamaze) are two hours long and include instructions on what supplies to have on hand, such as baby blankets and a baby doll or stuffed animal to practice diapering, feeding, burping and other baby care techniques. "I email them all the handouts for class, and after the live class I give them the option to stay for a question and answer time," Turner said.
Enrollment in classes has doubled and even tripled now that they're virtual, Turner said. The virtual options allow UChicago Medicine to reach a wider audience. Virtual also means that if a parent or partner is out of town or at work, they can still take the class.
When you work at the bedside and witness life being brought into the world, it's so remarkable. And for those who've had prenatal education, it makes such a difference in their experience.
The most popular class is Labor Preparation for Expectant Parents. The class covers the stages of labor, along with natural approaches to pain management. An anesthesiology fellow talks about medication, epidurals, nitrous oxide and other pain management methods, and participants watch videos of each labor stage.
Grandparents Workshop is a refresher class for grandparents to review evidence-based and best practices on caring for their grandchild. "They also learn about labor and delivery because sometimes they are the ones giving support there," Turner said. "They practice burping, changing a diaper, and giving a bath. We go over key points like, 'don't give baby solid food before six months,' and we talk about no powder in the diaper. We bring them up to date on things." They also learn how to install car seats and review safe sleep practices and breastfeeding support.
"A few things have changed about caring for babies since my daughter was born 31 years ago, and attending the course gave me a great refresher on how to care for a newborn," said participant Karen Boswell. "I made four pages of notes and I felt much more knowledgeable on how to care for my grandson."
The monthly Partners Workshop is for the person who's providing the most help to baby and birth parent. The class covers all the basics, from burping and feeding to bathing and diapering. "We talk about how to support the parent who is in labor and breastfeeding. We have videos and verbal instructions and we walk through every step," Turner said. Students practice diapering, how to hold the baby while feeding, umbilical cord care, and how to place baby in a car seat properly.
The Fourth Trimester: Physical Recovery After Birth class is taught by obstetrician/gynecologist Nicole Leong, MD, and focuses on caring for yourself after a vaginal birth or cesarean birth, and how to recognize signs and symptoms of postpartum complications. The From Pregnancy to Parenting: Emotional Well-Being During This Important Transition class is taught by licensed clinical psychologist Candice Norcott, PhD, who discusses postpartum mental health issues, along with tips for emotional well-being during the transition from pregnancy to parenting.
Other classes include Breastfeeding Your Infant, Intro to Baby's Car Seat, Lamaze Childbirth, Infant Care, and Infant CPR Safety Classes are offered on week nights and weekend afternoons, and Turner encourages parents and others to attend before the baby's birth, when they have time to be focused and they're excited about the upcoming birth.
Safe sleep practices are reviewed in most classes. Breastfeeding education is also emphasized so parents can make their own decision on the type of nutrition to provide baby.
"When you work at the bedside and witness life being brought into the world, it's so remarkable," Turner said. "And for those who've had prenatal education, it makes such a difference in their experience. That's been my driving force to bring this knowledge to the classroom. I want people to feel empowered, have a voice and be prepared."
Navigating her first pregnancy, participant Lauren Freeburg said she grew increasingly weary of all the "books, blogs and opinions" out there.
"My doctor recommended The University of Chicago Medicine, which has been my source for answering all of my questions and calming my anxieties," she said. "The prenatal nurses who teach the outstanding variety of courses are truly a gift to women and their partners — so knowledgeable, experienced, and genuinely caring."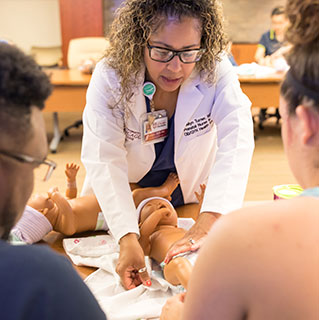 Podcast: Reach More Parents with Blended, Virtual and In-Person Classes
Evelyn Turner, MSN, RNC-MNN, ICCE, IBCLC, CPST, discusses creativity, problem-solving and lessons learned from navigating the challenges of providing prenatal education during the pandemic.
Listen to the full episode
Pregnancy and Childbirth Articles