Skip to content
Breastfeeding the second time around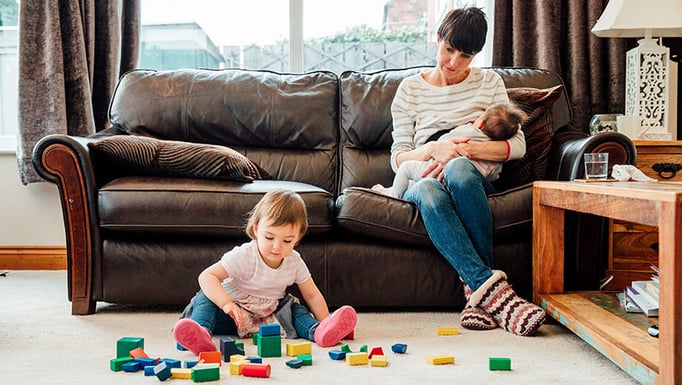 The Family Birth Center at University of Chicago Medicine is internationally recognized for offering optimal care for breastfed babies and their parents.
Our physicians and lactation consultants understand that breastfeeding can seem daunting, even for a second-time parent. Breastfeeding can be especially difficult if your firstborn wasn't breastfed.
As a Baby-Friendly USA-designated hospital, we meet many birthing parents who didn't breastfeed their first child and question if it is worth trying with their second child. Our resounding answer is always yes! While it may seem easier said than done, here are a few tips that we share with parents who didn't breastfeed the first time but would like to try with their next child.
Line up your support network.
By now you know that it truly takes a village to raise a child. If you did not breastfeed your first child or had trouble breastfeeding your first child, it's important to tell your obstetrician. Your physician is the member of your village who can provide expert medical help.
Furthermore, now that you are familiar with the process, you might be able to pinpoint what exactly didn't work for you and baby the first time. Your obstetrician will be able to answer your questions and may be able to connect you with a lactation consultant ahead of time to prepare for when your next baby is born.
Attending prenatal breastfeeding classes is another option. There are likely classes offered in your local community, including here at UChicago Medicine.
Also consider connecting with other breastfeeding parents. Through Baby Bistro, UChicago Medicine's free, weekly support group, parents can form a community with other breastfeeding parents while gaining professional guidance from lactation experts on personal breastfeeding challenges and successes.
Good for you, good for baby.
Breastfeeding your child has health benefits for both you and your baby. The American Academy of Pediatrics and the World Health Organization recommend exclusively breastfeeding your baby for the first 6 months, then introducing complementary foods along with breastfeeding at about 6 months, continuing breastfeeding to age 2 years and beyond, as long as desired by parent and child.
There are many benefits to breastfeeding. Breast milk helps build and support your child's immune system. Breastfeeding also soothes and reassures baby and builds a bond between baby and parent. Studies have found that breastfeeding longer than 12 months decreases Type 2 diabetes, hypertension, breast cancer and ovarian cancer rates. Breastfeeding also helps decrease postpartum depression.
Prepare to return to work.
There are a few obstacles to breastfeeding that may seem out of your control. Returning to work without a safe space to pump or store milk is a real issue that can be difficult to face. Just like having a conversation with your obstetrician, have a discussion with your employer. Your workplace is required by federal law to provide reasonable break time for you to express milk until your child's first birthday.
Employers are also required to provide a place, other than a bathroom, that is shielded from view and free from intrusion from coworkers and the public. If you need to request this place, ask for a space with a door and a lock. You may need access to an outlet if you need to plug in a pump.
While at work, you will need to pump during the times you would feed your baby if you were at home. As a general rule, in the first few months of life, babies need to breastfeed 8 to 12 times a day. As the baby gets older, the number of feedings may go down. Pumping can take about 10 to 15 minutes once you get into a rhythm. Sometimes it may take longer.
It's worthwhile to note that under the Affordable Care Act, parents can get a breast pump for free under most health insurance plans. Call your insurance company to see what resources are available to you, from a hospital-grade rental pump to in-home lactation visits once you and baby are discharged from the hospital.
Remember that all babies are different.
What worked with your firstborn may not work for your next, and what didn't work for your firstborn may work for your next child. If your first baby had trouble latching, it doesn't mean that your next one will. Also, research shows that lactating parents produce significantly more milk during their second pregnancy, which results in more efficient feedings.
Lastly, don't give up. Breastfeeding can be a rewarding experience for you and baby. There are a number of resources available to help you and baby get a happy and healthy start.
Breastfeeding Support and Resources at the Family Birth Center
Register for a Breastfeeding Class
Join Our Baby Bistro Breastfeeding Support Group
Learn more about:
Free Lactation Support Line:
773-702-8885
Connect with a certified lactation consultant at the Family Birth Center.
Learn More about Breastfeeding