Skip to content
UChicago Medicine performs historic back-to-back triple-organ transplants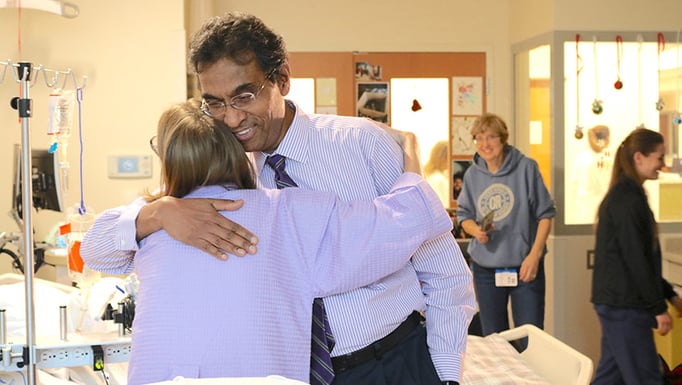 Triple-organ transplant patient, Sarah McPharlin, hugs heart transplant surgeon, Dr. Valluvan Jeevanandam.
Two 29-year-old patients from Michigan and Illinois are recovering following back-to-back triple-organ transplants to replace their failing hearts, livers and kidneys, marking a first in U.S. health care history.
The two surgeries, which lasted more than 17 and 20 hours each from Dec. 19 to 21, were performed by a team at the University of Chicago Medicine. According to federal statistics, this marked the first time a U.S. hospital has ever performed more than one of these complex procedures within one year, much less within 27 hours. These cases are the 16th and 17th time this type of triple-organ transplant has been performed in this country.
With the addition of these two cases, no other institution in the world has performed more of these procedures. UChicago Medicine also performed heart-liver-kidney transplants in 1999, 2001, 2003 and 2011.
"Rare transplant cases like these provide a unique and memorable legacy for that donor and the donor's family," said Kevin Cmunt, president/CEO at Gift of Hope Organ & Tissue Donor Network, a not-for-profit organ procurement organization that coordinates organ and tissue donations and provides donor family services and education in Illinois and Northwest Indiana. "We at Gift of Hope take pride in collaborating with our esteemed transplant centers, like the UChicago Medicine, that helps bring the gift of donation to even more families"
We never in our wildest dreams imagined both would take place at virtually the same time.
While the UChicago Medicine teams had spent nearly two months preparing for these cases, they hadn't planned for the near-simultaneous occurrence of two triple-organ transplants.
"We never in our wildest dreams imagined both would take place at virtually the same time," said John Fung, MD, a transplant surgeon and co-director of the UChicago Medicine Transplant Institute. "Pulling this off can feel like trying to perform a high-wire ballet in the middle of running a marathon. But we were always confident in our patients as well as our team's abilities."
UChicago Medicine has a long history of breakthroughs in transplantation dating back to 1904, when cardiac surgeon Alexis Carrel developed the technique for joining severed ends of blood vessels together. This procedure is what made organ transplantation possible, and Carrel received a Nobel Prize in 1912 for his work. The medical center continued advancing the field by pioneering the study of bone marrow transplantation and performing the first successful living-donor liver transplant in the world, first segmental and split-liver transplants in the U.S., and the first pancreas transplant in Illinois.
The Patients
Sarah McPharlin, a 29-year-old occupational therapist from Grosse Pointe Woods, Mich., received her first heart transplant when she was just 12 after contracting a rare inflammatory condition of the heart called giant cell myocarditis. But a variety of complications over the next 17 years led to failure of her transplanted heart. Fluid began to accumulate in her legs and abdomen, damaging her liver and kidney. She consulted with transplant teams at several other hospitals, all of which told her they'd be unable to perform the necessary triple-organ transplant. She was eventually referred to UChicago Medicine.
McPharlin was admitted in early November. By that point, her legs and stomach were swollen from so much excess fluid that she could no longer wear her own shoes or clothing.
"Since we are such a positive family, I don't think I realized how sick and uncomfortable I really was," she said. "But now, I feel better. It's amazing how such simple things we all take for granted can feel so good."
Two prior donor offers had been accepted for McPharlin, by UChicago Medicine. While various issues prevented each of those transplants from taking place, they gave the transplant team a chance to fine-tune their daunting surgical plan, which ultimately would be needed for not one but two multi-organ patients.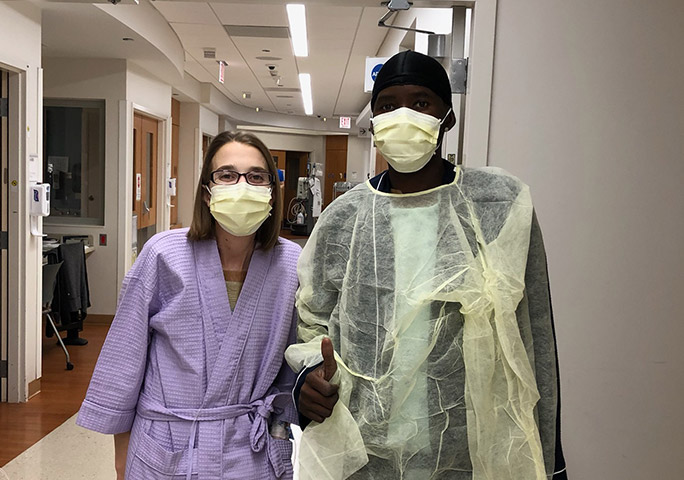 Daru Smith, 29, was first diagnosed with multi-system sarcoidosis five years ago. The rare and difficult-to-diagnose condition causes clusters of inflammatory cells to form in organ tissues, which can sometimes lead to an irregular heart rhythm and even heart failure. In addition to impacting his heart, sarcoidosis led to significant liver and kidney dysfunction.
The truck driver from Chicago's South Side was hospitalized Nov. 8 after an upper respiratory infection turned into pneumonia. His heart function had fallen to 15 percent.
"We had Sarah, who we had just listed on the transplant waiting list, and then came Daru, who was also just 29," said Nir Uriel, MD, director of heart failure, transplant and mechanical circulatory support at UChicago Medicine, who is managing the medical care for the patients. "We felt the team was in the mindset that the triple organ transplant can be doable and that we can also help Daru, too."
Listen to Sarah and Daru tell their triple transplant stories on the Forefront Podcast
The Surgeries
As Christmas Day neared, anxiety built. Then, on Dec. 18, the first call about matching organs came for Smith. A day later, the same call about a match came for McPharlin. Surgical teams from UChicago Medicine were dispatched to two different hospitals — one in Illinois and one out of state — to retrieve the sets of organs.
In each case, Smith and McPharlin's new organs came from a single deceased donor. While finding a match for three organs is significantly more challenging than finding a match for a single organ, physicians typically prefer to use single donors for multi-organ transplants because it is easier for a body to accept foreign tissue from one source.
"The real heroes are the donors," said Talia Baker, MD, surgical and program director of the hospital's liver transplant program. "It's always amazing to me that in the face of whatever unknown tragedy just happened to them, these donor families are able to have the peace of mind to consider donation and to give a gift of life to complete strangers."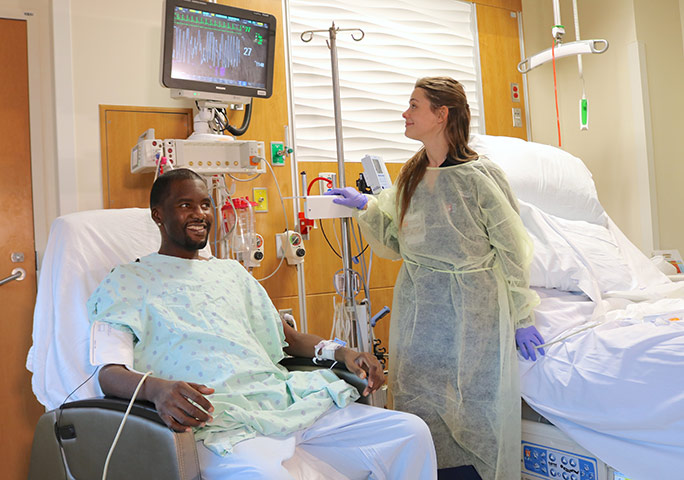 Smith's surgery began at 3:07 p.m. Dec. 19 and took 17 hours and 11 minutes to complete. McPharlin's surgery began at 6:04 p.m. Dec. 20, lasting 20 hours and 23 minutes.
Both triple transplant surgeries followed a similar pattern:
The heart transplants were performed first by Valluvan Jeevanandam, MD, the health system's chief of cardiac surgery, who has now performed the heart transplants in all six of the institution's heart-liver-kidney surgeries.
That was followed by the liver transplants, performed by Baker.
Finally, the two patients received a new kidney during the last stage of the surgery, which was performed by Yolanda Becker, MD, director of the kidney and pancreas program and the immediate past-president of the United Network for Organ Sharing (UNOS).
"The element of time adds pressure to what we do because we have only about four to six hours once the heart leaves the donor, while the other organs can last a little longer," Jeevanandam said. "A triple transplant magnifies the complexity and coordination of the process because the heart needs to go in first and be maintained while the other teams work to get the liver and then the kidney in."
A triple transplant magnifies the complexity and coordination of the process because the heart needs to go in first and be maintained while the other teams work to get the liver and then the kidney in.
The order in which the organs were transplanted was specifically chosen to minimize blood loss. (Each patient wound up receiving between 6 and 10 units of blood, along with plasma during the surgeries.) But the sequence also meant it was essential that each patient's new heart be delicately procured and transplanted to minimize any trauma, keeping it as strong as possible to sustain Smith's and McPharlin's bodies through the next two portions of their marathon surgeries.
"We had a 22-person operating room team of surgeons, nurses, anesthesiologists and others who rotated in and out — relay style — as each case progressed," Becker said. "We had prepared for each surgery to take between 24 and 32 hours. Instead, each surgery took significantly less time as the teams efficiently worked together."
What's Next
Both patients remain hospitalized. After discharge, they will be closely monitored, coming in for regular checkups for at least the next year.
After they're released from UChicago Medicine, the patients and their families plan on having a meal together at a local restaurant.
Smith is eager to spend time with his 3-year-old son, who he calls "my life motivation," and hopes to explore a career change as well as the possibility of becoming a motivational speaker.
"I look at it as a new beginning for me," he said. "I don't usually do the 'new year, new you' stuff. But this is honestly going to be a new year and a new me."
McPharlin is looking forward to being outside in the sunshine. Ultimately, she hopes to return to work along with her hobbies of skiing and sailing and "just kind of being a typical 29-year-old."
"I want my donor's family to know I appreciate the generous decision they made during their time of grief," she said. "Organ donation works because of this selflessness. I'm so grateful for the opportunity and want to do my best to live life to its fullest as a sign of respect for the gift they gave me."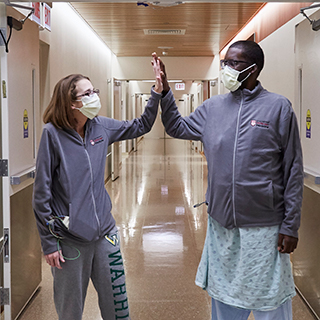 Making History
Both 29, Sarah and Daru were several rooms apart in the University of Chicago Medicine ICU. On an unexpected journey into the record books, they forged a unique friendship along the way.
Learn more about Daru and Sarah
Chicagoland Transplant Care Locations
Meet the Triple-Organ Transplant Physician Leaders
Leaders in Complex Transplants
With one of the nation's leading organ transplant programs, UChicago Medicine has performed more heart-liver-kidney transplants than any other institution. We continue to build upon our success and history of innovation to bring the best possible outcomes to our patients, including (left to right) Neil Perry, Daru Smith, Sarah McPharlin and Apurva Patel who all received triple-organ transplants within a year's time.