Skip to content
Simulation training helps surgical residents safely perfect skills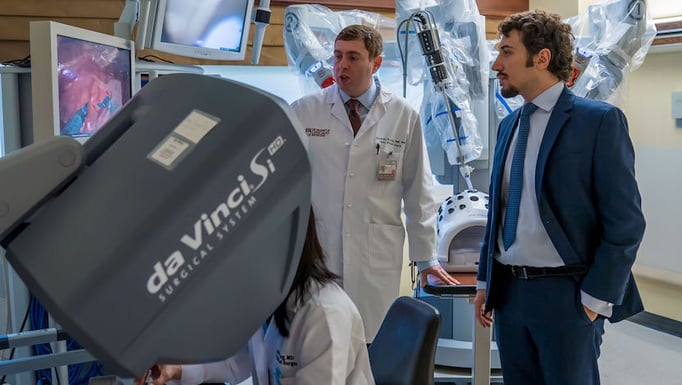 Practice makes perfect, and Konstantin Umanskiy, MD, associate professor of surgery, is helping to ensure surgical trainees have fully perfected their skills upon graduation.
Umanskiy, a colon and rectal surgeon at the University of Chicago Medicine, co-directs the Center for Surgical Simulation, Training and Research (S-STAR), a program that gives residents hands-on practice of technical skills in a simulated operating room setting. The realistic venue mimics the environment of a real-life surgery, but no patients are at risk while future surgeons perfect their technique.
Umanskiy is the surgical lead for the University of Chicago's Comprehensive Educational Institute, a Center accredited by the American College of Surgeons with the mission of enterprise-wide improvement of simulation-related training, quality, patient safety and associated innovation and scholarship. Stephen Small, MD, directs UC Simulation, and works closely with Umanskiy both in the Center and in the perioperative care of patients.
"Training using a virtual reality simulator is an option to supplement standard training," said Ciro Andolfi, MD, who works with Umanskiy to administer S-STAR sessions and is supported by the UC Simulation Center. "It has been proven that virtual reality training improves the technical skills of surgical trainees, such as decreased time for suturing and improved accuracy."
"In the public eye, technical mastery is one of the most important attributes of a surgeon."
Along with Small, Andolfi, and the Simulation Center staff, Umanskiy has developed and implemented a comprehensive surgical skills curriculum specifically designed for residents that includes basic surgical skills, minimally invasive surgery and robotics.
"In the public eye, technical mastery is one of the most important attributes of a surgeon," Umanskiy said. "The program aims to safely educate technically proficient surgeons."
Five courses are offered through the S-STAR program: Skills Club, Fundamentals of Laparoscopic Surgery (FLS), Fundamentals of Endoscopic Surgery (FES), Advanced Laparoscopic Skills and Robotic Surgical Training. Through each course, interns, residents and fellows are guided through the hands-on coursework by experienced faculty, including Andolfi and Lisa Cannon, MD, assistant professor of surgery in the Section of Colon and Rectal Surgery.
Specific tasks tackled in these courses include tying knots, suturing wounds, and handling surgical instruments; performing actual laparoscopic procedures with the LabMentor virtual simulator; and getting hands-on experience and certification using da Vinci robots for robotic procedures. All residents are expected to complete Surgical Simulation Training, and any fellows interested in sharpening their skills are welcome to attend.
"Simulation offers an immersive, realistic way of learning technical skills," Andolfi said. "Simulation allows trainees to make mistakes, to ask the 'what if?' questions, and to learn and reflect on such situations without risking patient safety."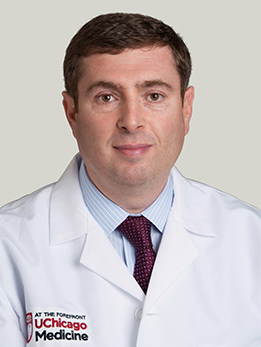 Konstantin Umanskiy, MD
Dr. Konstantin Umanskiy specializes in the surgical treatment of a wide variety of colon and rectal diseases such as colon and rectal cancer, inflammatory bowel disease (ulcerative colitis and Crohn's disease), complex anorectal disorders and diverticulitis.

See Dr. Umanskiy's profile
Patient Care Articles & News