Skip to content
Charting a map to the heart: Researchers receive grant to create a cell atlas of the human heart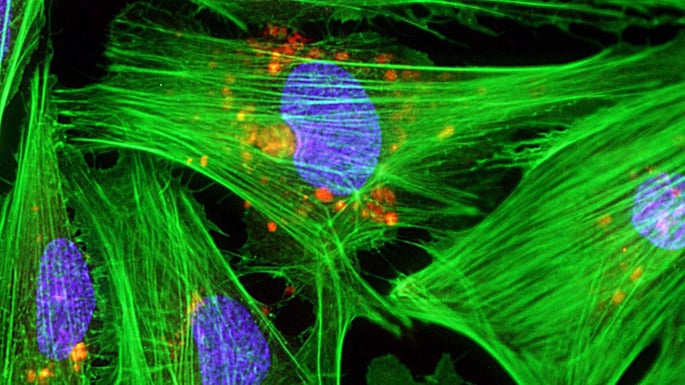 Micrograph of laboratory-grown heart muscle cells. Fluorescent labeling shows mitochondria (red), cytoskeleton (green), and nuclei (blue). (Credit: Credit: Douglas B. Cowan and James D. McCully, Harvard Medical School, Boston)
Two University of Chicago scientists are part of an international team of researchers awarded a three-year, nearly $4 million grant to define every cell type in the human heart.
The grant is part of $68 million in funding from the Chan Zuckerberg Initiative (CZI) to support the Human Cell Atlas, an international effort by experts in biology, computation and medicine to map all of the cells in the human body. The resulting cellular and molecular map will help researchers better understand what goes wrong when disease strikes.
"The idea is to build a reference atlas to learn about the normal state of heart cells," said Sebastian Pott, PhD, assistant professor in the Department of Human Genetics. "Having this reference will allow us to better understand the cellular composition of the human heart as well as how it differs between individuals."
Pott and Anindita Basu, PhD, assistant professor in genetic medicine, will tap the emerging field of single cell genomics to perform single-cell sequencing on normal heart samples. Basu is a pioneer in the method, having developed high-throughput, microfluidics-based single cell RNA sequencing technology. This project builds on a 2016 CZI-funded pilot study in which the sequencing technique was perfected, benchmarked and used on adult human heart cells for the first time.
Having this reference will allow us to better understand the cellular composition of the human heart as well as how it differs between individuals.
Along with Pott and Basu, the heart team includes other researchers from the United States as well as scientists in Germany and the United Kingdom. Pott says the international nature of the team brings together wide-ranging expertise and will help capture the variation between individuals across continents to arrive at an integrative reference map of the heart.
"We have a pretty good idea of the broad cell divisions that exist — such as heart muscle cells and cells that make up blood vessels in the heart — but the closer we look, the more we realize that there are subtle changes or differences between cells that otherwise seem very similar," Pott said. "For example, heart muscle cells in different regions of the heart are set up to deal with different environments and stresses. The challenge will be to carefully characterize how these cells differ within an individual heart. It's one of the questions we'll try to answer."
Pott's group is one of 38 teams participating in the three-year CZI Seed Networks projects. Each team will focus on mapping specific tissues in the healthy human body; Ernst Lengyel, MD, PhD, an ovarian cancer expert and chair of obstetrics and gynecology at UChicago Medicine, was also awarded a CZI grant to map all cell types in the female reproductive system, along with Basu, bioinformatician Mengjie Chen and cell biologist Mark Eckert.
The CZI's projects aim to help generate new tools, open source analysis methods and diverse data to the Human Cell Atlas Data Coordination Platform, a unified resource that will enable data sharing among researchers and research institutes around the world. All of the data, protocols and computational tools developed as part of the research will be freely available to the research community.
Founded by Dr. Priscilla Chan and Mark Zuckerberg in 2015, CZI is a new kind of philanthropy that's leveraging technology to help solve some of the world's toughest challenges — from eradicating disease, to improving education, to reforming the criminal justice system. For more information, please visit chanzuckerberg.com.