Skip to content
Two-in-One Stem Cell Transplant for Leukemia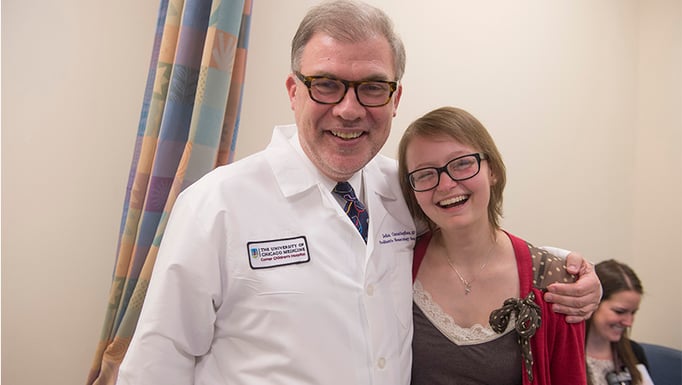 Daniela Lakosilova still remembers what John Cunningham, MD, promised her the first time they met.
"If you need a stem cell transplant, we'll find you a donor," she recalled the pediatric hematologist/oncologist saying to her in his clinic at the University of Chicago Medicine Comer Children's Hospital.
Now a college freshman, Daniela was first diagnosed with acute lymphoblastic leukemia (ALL) in 2007 when she was 12 years old. She underwent the standard frontline treatment for the disease -- chemotherapy and radiation treatment over two years -- at another hospital. While this therapy is successful for most children with ALL, a small percentage of patients relapse and require additional therapy. For Daniela, the leukemia recurred in 2012 during her junior year of high school.
Her doctors gave her a choice. The teenager could undergo more chemotherapy or consider having a stem cell transplant -- a process that replaces damaged or diseased blood stem cells with healthy stem cells from a donor. She opted for transplant and her physicians used the National Marrow Donor Program (NMDP) registry to look for a donor.
At the Forefront of Stem Cell Transplant
Although millions of potential donors are listed on NMDP, there wasn't a suitable match for Daniela. According to Cunningham, director of stem cell transplantation at Comer Children's Hospital, this situation occurs in up to 50 percent of children and adults who need this type of transplant.
In 2011, University of Chicago Medicine physician-scientists reported they had successfully refined a procedure known as haplo-cord transplantation. The technique combines cells from a half-matched (haploidentical) related donor and well-matched, unrelated umbilical cord blood.
"Separately, half-match and cord blood stem cell transplantation have many challenges, but together we have shown them to be effective," Cunningham said, explaining that half-matched stem cells engraft quickly but only produce blood cells for a limited time. Nevertheless, they provide a bridge that allows the umbilical cord cells to grow and reproduce healthy cells for the long term.
Haplo-cord transplant is only offered to patients for whom initial treatment has failed. In recent years, haplo-cord transplant has opened up the option of stem cell transplantation to nearly all patients for whom the procedure was not previously available. The University of Chicago Medicine was the first medical center in the country to offer the innovative technique.
Looking Forward
When Daniela's parents, Petr Lakosil and Radka Lakosilova, heard about haplo-cord transplants offered at Comer Children's, they brought their daughter to the hospital for a second opinion. Cunningham's team identified a closely matched umbilical cord donor and determined that Daniela's father would be the best half-match for her.
Daniela underwent the haplo-cord transplant in November 2012. In the months following, she experienced graft vs. host disease followed by other complications of stem cell transplantation. Each time, her medical team successfully addressed the problem. Nurse coordinator, Caitlin Beaudoin, APN, admired Daniela's attitude and resilience during the post-transplant period.
Moving Forward
While Daniela spent much of her senior year in the hospital, she kept up with her studies and frequently attended class via FaceTime on an iPad. She graduated from Ridgewood High in Norridge Ill., on time and in the top 10 percent of her class.
"Even though I missed a lot of school, I could see my friends' faces in the classroom," she said. "It was nice just to hear them say 'hi' to me." She was able to leave the hospital to join her classmates for senior ditch day and to attend her prom. Her date was a fellow patient who she met at Comer Children's.
Writing on her blog about prom, Daniela said, "It is days like this that make me think deeply. [Having cancer] showed me how strong I really am -- showed me that life is too short and that you should enjoy every minute."
This past fall, Daniela started classes at Triton College in River Grove, Ill. Influenced by an art therapist who helped her cope with her illness and treatments, she plans to pursue a psychology degree and a career in art therapy.
Cunningham and Beaudoin say that Daniela's long-term prognosis is outstanding. Now past the one-year mark, the risk of relapse is very low. After two years, there is less than a 5 percent chance that the cancer will return.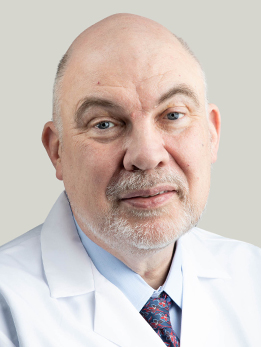 John M. Cunningham, MD
John M. Cunningham, MD, is an internationally known expert in the treatment and research of childhood cancers and blood diseases. He serves as chair of the Department of Pediatrics and physician-in-chief of UChicago Medicine Comer Children's Hospital.
Learn more about Dr. Cunningham
Pediatric Cancer Articles