Skip to content
Neuroblastoma patient treated at both Advocate and Comer hospitals thanks to new CCHA partnership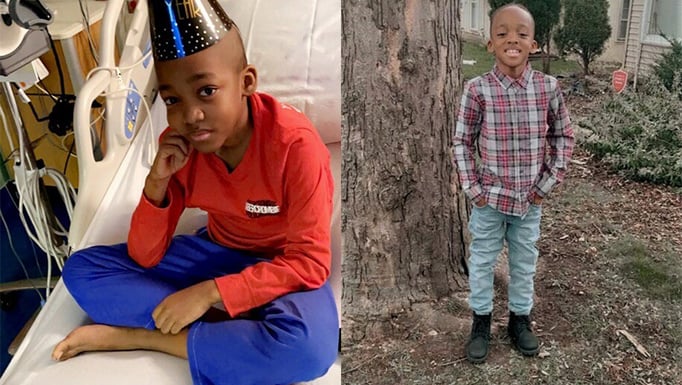 When Jakari Fuller developed pneumonia at age 9, his doctor suspected the boy might have fluid buildup in his chest. Tests at Advocate Children's Hospital in Oak Lawn uncovered something much worse: a cancerous tumor, larger than a grapefruit, in his abdomen. The tumor wound around his diaphragm and crept near his heart.
Jakari was diagnosed in 2021 with high-risk neuroblastoma, a childhood cancer that forms in nerve cells. He's undergoing treatment at two different hospitals thanks to a new collaboration, the Chicagoland Children's Health Alliance (CCHA).
Advocate Children's Hospital, University of Chicago Medicine Comer Children's Hospital and NorthShore University Health System recently partnered to create the CCHA. It allows the three hospital systems to coordinate leading-edge care for pediatric patients. It also enables close collaborations among experts in such areas as oncology, cardiology, gastroenterology and neurology.
"Teams of physicians from both hospitals work together to ensure the care is patient-centric," said Comer Children's pediatric oncologist Susan L. Cohn, MD. "Patients really appreciate being able to receive some of their care closer to home. It is important for a cancer patient to have a doctor close to home, because if they develop a fever, antibiotics must be administered quickly."
Jakari received his initial chemotherapy at Advocate Children's Hospital. Shortly after his diagnosis, a multidisciplinary team of doctors from different CCHA hospitals held virtual meetings to discuss the optimal treatment for him.
Since Comer Children's Hospital has a number of neuroblastoma specialists with specific expertise in stem cell transplant — including pediatric surgeon Grace Mak, MD, and pediatric oncologists Cohn, Ami V. Desai, MD, and James LaBelle, MD, PhD — the physicians decided it would be best for him to have his complex, specialized cancer therapies at Comer Children's, including tandem stem cell transplant surgeries. His other cancer treatments, including chemotherapy and immunotherapy, would be done at Advocate, closer to Jakari's home in Calumet City.
Doctors from both hospitals worked as a team. When Jakari had a reaction to an immunotherapy drug, his doctors from Comer and Advocate quickly convened on a call and came up with a solution. They also devised together a treatment schedule and met frequently on Zoom to discuss his progress. All can access his medical file of test results and appointment notes.
"Jakari is one of many patients who have benefited from this close partnership, which ensures each patient is able to receive the care they need," Cohn said. "Our patients greatly benefit from being part of a system in which multiple physicians collaborate closely to develop optimal treatment plans."
CCHA helped make communication and collaboration between hospitals much smoother, said Rebecca E. McFall, MD, Jakari's pediatric oncologist at Advocate Children's Hospital. Since pediatricians see so many varieties of cancer and other diseases, it helps to draw from, and talk with, a bigger team of specialists.
Our patients greatly benefit from being part of a system in which multiple physicians collaborate closely to develop optimal treatment plans.
"Each case is very different, so it's nice to be able to offer patients individualized and highly specialized care," McFall said.
The COVID-19 pandemic made everyone more adept at hopping on a video call to discuss a patient's case. It also enabled multidisciplinary teams of pediatric oncologists, radiologists and surgeons from both hospitals to collaborate, said LaBelle, who performed Jakari's two stem cell transplants in December 2021.
"The patient's family trusts the process more when there's good communication between the two groups," said LaBelle, who leads Comer's Stem Cell Transplantation Program.
Today, Jakari, now 10, is cancer-free. When he finishes his last immunotherapy session at Advocate in early January 2023, he'll return to his fifth-grade class, said his mom, Shuntel Horne.
Jakari says the past 1½ years have "not been great," but he's found joy in TikTok, watching anime, and playing basketball and video games. He's also been looking forward to having his basketball-themed wish granted by Make-A-Wish® Illinois.
"High-risk neuroblastoma is a long, long haul. All of the different therapies are not easy. But Jakari's been so tough and so resilient. Our whole team thinks he's such an old soul and he's such a lovely patient to work with," McFall said.
Request an Appointment
The information you provide on this secure form to request an appointment with a Comer pediatric cancer expert will enable us to assist you as efficiently as possible. A representative will contact you within one to two business days to help you schedule an appointment.
You can also make an appointment with our providers by:
– Scheduling a virtual video visit to see a provider from the comfort of your home
– Requesting an online second opinion from our specialists
To speak to someone directly, please call 773-702-6169. If you have symptoms of an urgent nature, please call your doctor or go to the emergency room immediately.
For Referring Physicians
To refer a pediatric patient for cancer care, please call UCM Physician Connect at 1-800-824-2282.
Pediatric Cancer Articles