Skip to content
Improv comedy helps heal young patients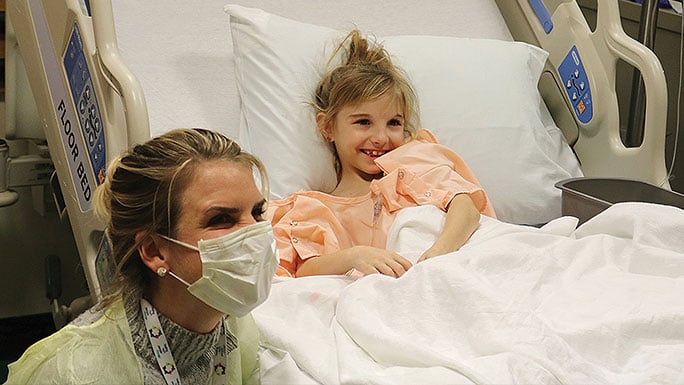 Inside patient Allissa Boyer's room, a trio of improvisational performers transport the 9-year-old using their improv magic.
"What's a place that we could be? It could be anywhere," says one performer.
"On the moon?" peeps Allissa, her mom watching, with a smile.
"On the moon!" the group throws their arms up in excitement.
"We're goin' to the moon, baby," calls another improv leader.
And for the next half hour, the improve team, the patient and her mother are no longer in a hospital room. They're on a magic elevator to cloud world and circus land, on the moon and shopping for new outfits.
Every Wednesday at UChicago Medicine's Comer Children's Hospital, Humor for Hope, a small group of performers takes to the stage to spark a smile that often erupts into laughter from many of the children there to help them get better. Many of the children are coping with trauma, acute, chronic and terminal illnesses.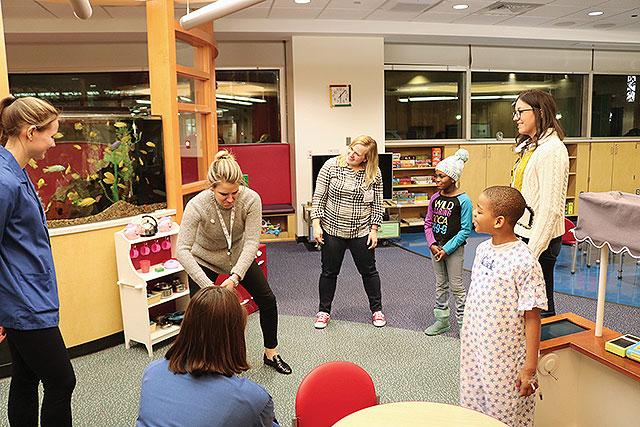 The group uses improvisational comedy as a form of healing therapy for kids and their families. Their motto: "It's hard to be afraid when you can't stop laughing." The trio's stage may take the form of a patient's room or hospital area. They do solo and group sessions and go throughout the Chicago area spreading laughter to healing children.
The group also works with Healing Hurt People Chicago to help children recover from trauma, which is a collaboration among Comer Children's Hospital, John H. Stroger, Jr. Hospital of Cook County and Drexel University in Philadelphia.
"We strive to be an outlet for the children and a source of relief for the parents," said Hope England, the group's founder and a fulltime master's student studying clinical counseling psychology with an emphasis on trauma, grief and loss.
For the past six months, Humor for Hope has partnered with Comer's Child Life services while England has been working with the hospital in multiple capacities for more than a year.
"We plan on coming to Comer as long as they will have us or until every single disease, ailment, and sickness is cured," England said. "We never laugh harder than we do at Comer. It feels like family there."