Skip to content
How my cancer journey led me to help patients facing food insecurity
I was diagnosed with cancer in February, 2022.
Gabrielle had a tumor called Hodgkin lymphoma that we see most prevalently in adolescents and young adults.
[MELLOW MUSIC]
She told me about how lots of other patients at Comer and at the University of Chicago in general had trouble getting food throughout treatment.
That not only are you fighting cancer, but you can't find food. And when you're sick and going through chemotherapy, your taste buds change and it's very hard to sometimes eat.
And we found that material hardship actually can impact your cure rate.
And that's just another thing to think about on top of being at the hospital, and that really inspired me to find a solution and help.
The name of the nonprofit organization is Friends of Gabrielle and it's a suborganization in , Prosper Chicago, and basically it helps feed people who can't afford to get food on their own.
[MELLOW MUSIC]
Your name is put on a list by a community based organization or in the case of University of Chicago by the hospital, and then it's simply a text identifying that you're hungry.
And they are able to make the food and then people can go and pick it up whenever it works for them.
Here in the South Side, we see a good number of patients really struggling with paying for food, paying for food for their families.
[MELLOW MUSIC]
And so this is a really impactful and direct way to help these patients. Their are goals for helping our community really are amazing.
And that was really a wonderful moment to see my daughter, not just think of herself, but to begin to think of others, even in a time where she was struggling. It makes me so proud of Gabrielle.
She's just a remarkably resilient young lady.
And we hope as these kind of programs grow. We'll start to see these families do even better with their cancer treatments.
I hope that Friends of Gabrielle inspires people to think about what other people are going through and see how they can help.
[MELLOW MUSIC]
Gabrielle Silverman, a 16-year-old from Chicago, wrote this story about what it was like to be diagnosed with stage 4 Hodgkin's lymphoma and go through treatment at UChicago Medicine Comer Children's Hospital. Gabrielle is now cancer-free, but her emotional journey inspired her to start a unique charity to help Comer Children's patients and their families who face food insecurity.
I perched on the edge of the examination bed, the paper covering crinkling softly beneath me. I scrolled through my phone, allowing the familiar distraction of technology to soothe any budding worries.
One day earlier, a doctor discovered the lump bulging out from the left side of my neck. Although it had been lurking for months, I hadn't noticed it before. The notion that something was seriously wrong with me remained remote, allowing me to hold onto a sense of normalcy in those moments of anticipation.
When the doctor finally entered the room, her expression hinted at a different narrative. As her eyes met mine, I could sense the weight that accompanied the news she was about to deliver.
"We found more lumps in your chest," she began.
Tears streamed from my eyes as waves of fear and confusion flooded my mind.
She explained she was 99% sure I had stage 4 Hodgkin's lymphoma but that I needed a biopsy to confirm my diagnosis. I had never imagined being diagnosed with cancer, let alone at the age of 14. Still in disbelief, I hung on to that 1% chance that she was wrong.
Being able to nourish yourself with a balanced and wholesome diet is critical, especially while battling a serious illness.
After my biopsy the following week, my horrors were confirmed. On February 22, 2022, I was officially diagnosed with cancer. Shortly after, I enrolled in a clinical trial for stage 4 Hodgkin's lymphoma at UChicago Medicine.
Throughout my journey with chemotherapy and immunotherapy, I experienced a variety of symptoms including nausea and changes in my taste buds. I was extremely specific with the foods I chose to eat, being cautious of what I could keep down — without exacerbating my nausea — and what was manageable taste-wise.
One day I would want only buttered toast, the next day, pizza. The list went on and on each day.
While discussing my concerns with my pediatric oncologist, Tara Henderson, MD, MPH, she advised that many UChicago Medicine Comer Children's families, already navigating the complexities of their children's health battles, faced an additional hurdle: food insecurity. I couldn't imagine not knowing when or if I would have my next meal on top of everything I was already facing.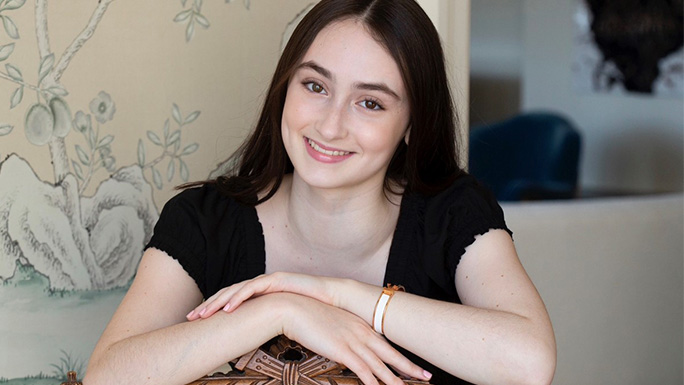 Food serves as far more than sustenance: It is medicine for our bodies. Nutrient-rich foods aid in the repair and regeneration of cells, bolstering the immune system and promoting healing. Being able to nourish yourself with a balanced and wholesome diet is critical, especially while battling a serious illness.
Hoping to ease the burden of food insecurity for families visiting the UChicago Medicine health system, which includes Comer Children's, and to ensure that everyone has access to the nutrition necessary for recovering from severe illness, I started Friends of Gabrielle (FOG). FOG works with Prosper Chicago to provide an innovative mobile-ordering resource that removes barriers surrounding food-assistance programs and community investment.
FOG provides prepaid meals to those in need via a network of local independent restaurants. Once people sign up through UChicago Medicine, they receive texts asking if they'd like to receive a meal. Aided by geolocation technology, they can pick conveniently located restaurant locations and collect their free meals.
In return, restaurants gain revenue from each meal ordered and continue to serve their communities. Restaurant partners are provided mentors with relevant experience to support success.
Each meal and every grateful smile underscore the significance of the collective effort. Just as frightened families find solace in a warm meal, local eateries benefit from a lifeline through the symbiotic relationship with FOG.
FOG's dual mission, to alleviate the pressing issue of food insecurity for families facing serious illnesses while nurturing a community of local restaurants, weaves a tapestry of support and resilience for the hospital that saved my life.
***
Gabrielle Silverman, 16, is a high school junior living in Chicago and the daughter of University of Chicago Medical Center board trustee Scott Silverman. Gabrielle completed her cancer treatment in 2022. Friends of Gabrielle has raised enough funding to provide more than 10,000 meals. To register for meals through FOG's partnership with Prosper Chicago, ask your social worker or Child Life specialist at Comer Children's Hospital to add you to the list. To donate to FOG, visit prosperchicago.org/fog.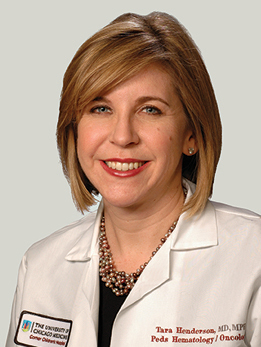 Tara Henderson, MD, MPH
Tara Henderson is an expert in the diagnosis and treatment of pediatric cancers. She serves as director of the UChicago Medicine Childhood Cancer Survivors Center, a program aimed at the prevention and treatment of long-term issues associated with cancer therapy.
View Dr. Henderson's physician profile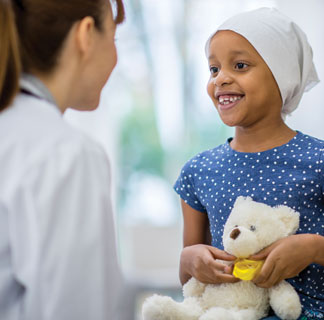 Pediatric Cancer Articles