Skip to content
Ci3: Joining forces to tackle barriers and transform teen health through empowerment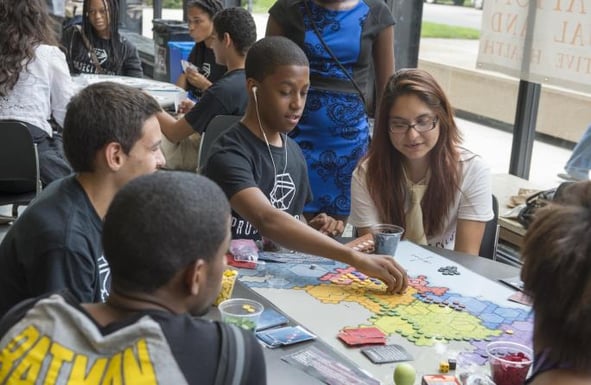 Students play games they created during a Ci3 Game Changer Chicago summer program at the University of Chicago in 2014 (Robert Kozloff/The University of Chicago)
Every day, 800 women around the world die of preventable causes related to pregnancy and childbirth. That's one every 90 seconds. And here in the U.S., the teen pregnancy rate exceeds that of every other industrialized nation.
Statistics like these fuel the work of the University of Chicago Center for Interdisciplinary Inquiry and Innovation in Sexual and Reproductive Health (Ci3), a wide-ranging collaboration that's tackling systemic barriers to sexual and reproductive health through youth empowerment, research and novel interventions.
"I was inspired to start Ci3 because I began to see that many of the problems I was most interested in related to sexual and reproductive health were beyond a single discipline," said Melissa Gilliam, MD, MPH, a pediatric and adolescent gynecologist who founded Ci3 in 2012. The center brings together researchers from such diverse disciplines as medicine, economics, psychology, sociology, business, English and public policy. Ci3 also has a dedicated policy program to help galvanize policy change to support the health of young people.
The center's most robust program, the Game Changer Chicago Design Lab, enlists teens to conduct clinical research and combat health risks through new media projects and game design. One example is Smoke Stacks, a board game that casts players as tobacco industry executives to highlight the role of marketing in teen tobacco use.
"We often think poor health relates to individual, risk-based behavior, but often there are larger systems that support inequalities," Gilliam said. Going forward, Ci3 hopes to transform those forces with its newest initiative, the Design Thinking Lab. Among DSL's pilot endeavors: a partnership to bring reproductive health care directly to high schools through the University of Chicago Medicine Comer Children's Hospital Mobile Medical Unit.
"It's the beginning of a series of exciting projects," Gilliam said, "where we're working with communities to redesign systems to better support them."
This article is part of a five-part series originally published in the Spring 2016 issue of Medicine on the Midway.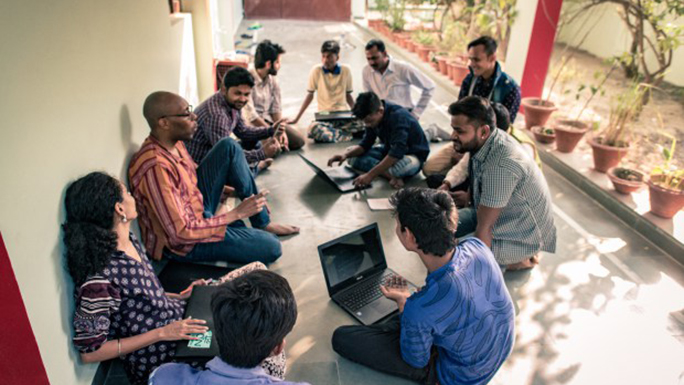 Ci3 researchers and storytellers recently traveled to India to work with adolescents living in urban slums and train young people in storytelling. The youth are producing stories on gender, education and future aspirations. (©2016 Saddi Khali, Storyographers, LLC.; Courtesy of Ci3)
Pediatric Articles & News