Skip to content
For the terminally ill, Ingalls Memorial Hospice offers comfort, compassion and support for families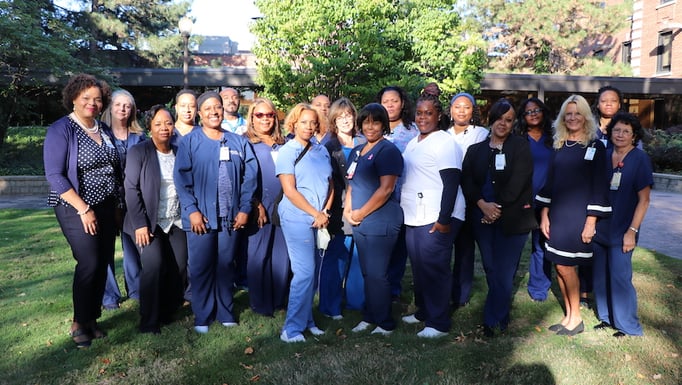 After learning one of their hospice patients would be living alone in a nursing home without family support, the staff at UChicago Medicine Ingalls Memorial Hospice devised a plan.
To create a sense of home and family, they all collaborated to get their patient a TV, clothes and holiday decorations. Upon seeing everything the staff did, the patient cried.
"It was unexpected, and the patient felt so grateful, loved and cared for," said Ingalls Memorial hospice program director Eleanor Williams, RN.
It's just one example of the special, compassionate care the staff at UChicago Medicine Ingalls Memorial Hospice has provided to terminally ill patients and their families for more than 30 years.
Ingalls Memorial's hospice program is licensed, accredited and provides patients with a personal care team who can make them comfortable in the final months or weeks of their lives. Costs for services are usually fully covered by the patient's insurance or Medicare.
A medical director, registered nurses and certified nurses' aides tend to the patient's pain and other physical needs, while social workers and clergy help with the social, emotional and spiritual needs of the patient and their family members.
The program, which has been growing steadily, treats about 50 people at any given time, either in the patient's home, their nursing home, or in Ingalls Memorial's inpatient hospice program.
The hospital's hospice space, located down the hall from the intensive care unit, was recently remodeled with new furniture, lighting, flooring and paint, courtesy of the Ingalls Development Foundation.
UChicago Medicine Ingalls Memorial Hospice encourages family and friends to visit patients (while adhering to COVID-19 protocols) so everyone can talk, tell stories, laugh, pray, sing, eat their favorite foods, listen to music or even watch a ballgame on TV.
"Those final moments can be beautiful when the family is all around," Williams said. "Sometimes, it's so difficult for families to accept that their loved ones need hospice, but then they realize that we can make them comfortable. It helps everyone."
Many people wish to spend their final days at home. If there is someone living in the house who can assist, the hospice program can provide a hospital bed, medications and regular visits from nurses and nurse's assistants to make sure the patient is comfortable, cared for and not in pain.
"Comfort care is just as important as critical care," Williams said. "It doesn't completely remove the burden of care for the family, but it makes it a little lighter because they have all these services."
Williams decided to become a critical care and home health care nurse after caring for her mother, who had vascular dementia. She knows firsthand the importance of comfort care and the stress caregiving can put on the family. She now leads UChicago Medicine Ingalls Hospice along with Executive Director Joseph Larkin, BSN, RN.
"You definitely have to have a heart for people to do this job. Not just for the patients, but for their families," Williams said. "They need hospice as much as the patient does."
Mary Ann Carnes, RN, a nurse for 35 years and an Ingalls Memorial hospice nurse since 2015, said she enjoys getting to know the patients and their families.
She's provided end-of-life care to everyone from a 23-year-old college student to an elderly cancer patient who was in hospice for three years. She knows the pain families and friends experience and can explain to them what is happening to their loved ones physically, while offering comforting words. Many families call her to thank her after their loved ones pass or send her thoughtful notes.
"I just tell them, I'm here to support you," she said. "I had one patient whose family always got together to talk about his life, laugh about the things he did, and then they'd do a toast to him. I thought, that's the way to do it. To celebrate their life."
UChicago Medicine Ingalls Memorial Hospice welcomes volunteers to provide companionship for patients and assist with administrative tasks. For information, call 708-331-1360 .
Patient Care Articles & News