Skip to content
University of Chicago Medicine executive chosen for prestigious fellowship for women leaders in healthcare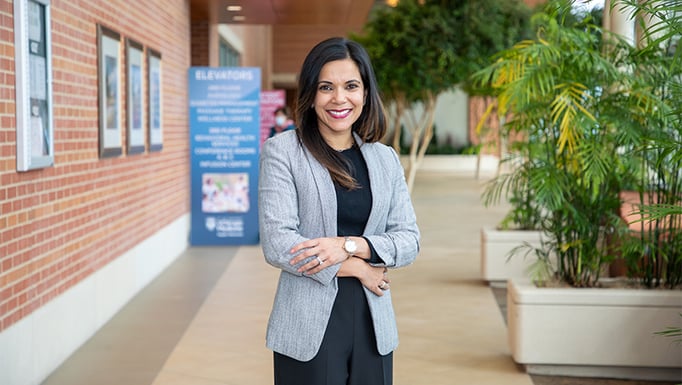 Poonam Desai at UChicago Medicine at Ingalls - Flossmoor
For the fourth time running, a University of Chicago Medicine executive will participate in the
Carol Emmott Fellowship
program.
Poonam Desai, MHSA, Executive Director of Ambulatory Operations, Community Health and Hospital Division, will participate in the 14-month program focused on promoting gender equity in health leadership by accelerating women leaders' careers through support and resources. The national nonprofit Carol Emmott Foundation is based in Oakland, California.
We talked with Desai about her start in healthcare, UChicago Medicine's ambulatory expansion and the importance of mentors.
What was your career path that led you to ambulatory care?
I started my career as an Administrative Fellow at Northwestern Medicine and later transitioned into a manager role within outpatient radiology. During my nine-year tenure, I held various leadership roles within the Department of Radiology. Although I really enjoyed it, I wanted to learn more about the other functions within the hospital.
Around this time, one of my mentors who'd become the chief executive of Loyola Medicine asked me to be his chief of staff. This was totally out of my comfort zone because I'd only done operations! But I took the plunge and it was an amazing experience. I fell into projects related to ambulatory operations, consolidation of service lines and productivity management. I eventually transitioned to an executive director role in ambulatory services focused on care design and patient access, which was a lot about building a brand and defining the patient experience.
About two years ago, I joined the UChicago Medicine team and oversee the Family Care Centers as well as the employed physician groups who practice there. Every place has offered me something different, but I really understand and like being in the ambulatory world.
What attracted you to ambulatory care?
I'm not a physician or clinician, but it really means a lot to me to see the impact of the work I do and what happens in the hospital clinics. I want to continue to ensure the work I do is impactful and making a difference.
Why is UChicago Medicine expanding its ambulatory care services in Illinois and Indiana?
Historically, patients would drive to get care – they'd go to the main campus in Hyde Park to receive the high-quality care that's associated with the UChicago Medicine brand. We want to better serve our patients and bring the great care you would get on the South Side into the communities.
We have a lot of exciting new initiatives that the teams are working on, including the opening of three new urgent care sites, expanding our UChicago Medicine Medical Group to include pediatricians and opening a new hematology/oncology clinic in Calumet City.
What aspect of the Carol Emmott Fellowship are you looking forward to most?
I've had female leaders that I've worked for but I've actually never had a female mentor, so this is a very exciting opportunity. I'm looking forward to having a group of peers from other healthcare institutions from whom I can learn from to grow professionally. It's an honor to be amongst this group of talented leaders who have diverse experiences and backgrounds and have the opportunity to be a part of a professional sisterhood.
What advice do you have for people who have not traditionally been able to access a path to leadership roles?
I've always been of the school where you put your all into what you do and take a lot of pride in your work. Become that subject matter expert, follow through with what you say you're going to do and let your reputation speak for itself. Most importantly, build strong relationships.
News from UChicago Medicine