Skip to content
Valparaiso University and University of Chicago Medicine create new student training program in northwest Indiana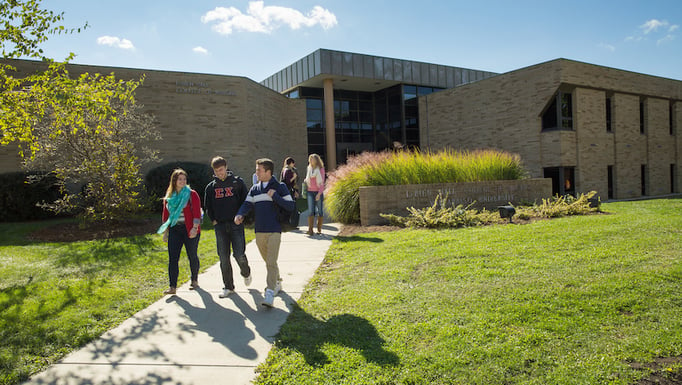 A new training program with Valparaiso University will give students in the Northwest Indiana school's College of Nursing and Health Professions a chance to get hands-on training at UChicago Medicine's new Crown Point location, which will open in 2024.
Valparaiso University and the University of Chicago Medicine are launching a new training program that gives future healthcare professionals in Northwest Indiana vital, practical experience before they begin their careers. Under terms of the joint agreement between the university and the Chicago-based academic health system, students in Valparaiso University's College of Nursing and Health Professions will have the opportunity to work with staff and patients at UChicago Medicine's new 130,000-square-foot multispecialty care center and micro-hospital in Crown Point.
"Training the next generation of clinicians is a critical part of our mission as an academic health system and I'm absolutely thrilled to extend our educational partnerships to include students from Valparaiso University's School of Nursing and Health Professions," said Emily Chase, PhD, RN, NE-BC, UChicago Medicine's Chief Nursing Officer. "Hands-on training programs like this are critical components of the work to grow the pipeline of nurses, physician assistants, occupational therapists and so many other healthcare jobs. Launching this effort now is especially timely as our health system opens its first free-standing location in Indiana."
Through the effort, Valpo students from all College of Nursing programs may become eligible to work at UChicago Medicine's largest off-site facility when it opens in spring 2024. Students in nursing, occupational therapy and physician assistant programs will work with real patients under the supervision of UChicago Medicine clinical employees. Other students, such as those in health sciences, healthcare leadership and healthcare administration, will work within the Crown Point center in supervised administrative roles.
UChicago Medicine's new Crown Point facility will have an eight-bed emergency department, a short-stay inpatient unit, imaging, outpatient surgery, laboratory services, medical offices and a cancer center with infusion therapy as well as radiation, medical and surgical oncology.
Some students may also do educational rotations at the University of Chicago Medical Center, UChicago Medicine's flagship campus in Chicago's Hyde Park neighborhood. All students will be required to be clinically cleared for the placement work and meet program requirements.
"Thanks to the collaborative work of Valparaiso University's President Jose Padilla and Provost Johnson, along with UChicago Medicine's Mark Anderson, Executive Vice President for Medical Affairs and Dean, Emily Chase, Chief Nursing Officer and Senior Vice President for Patient Care Services, and myself, we have achieved a great milestone," said Karen Allen, Ph.D., RN, FAAN, Dean of the College of Nursing and Health Professions. "This will allow us to continue with the high-level, quality education this college has been providing for more than 50 years. In addition, it will allow us to increase the number of healthcare professionals in the industry."
News from UChicago Medicine