Skip to content
UChicago Medical Center earns 24th consecutive "A" grade for hospital safety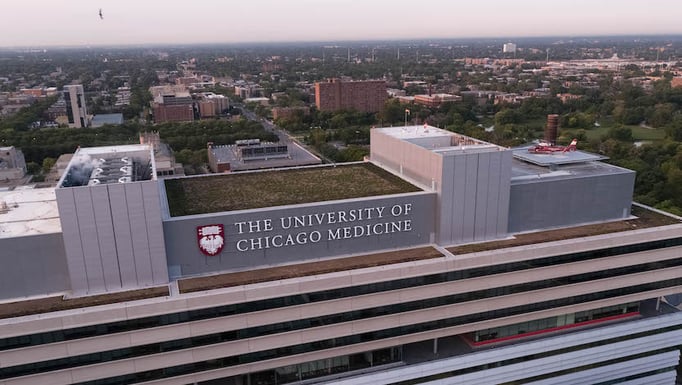 The University of Chicago Medical Center (UCMC) received its 24th consecutive "A" Hospital Safety Grade from The Leapfrog Group, an industry watchdog safety organization that sets nationwide standards for excellence in patient care. UCMC is the only organization in Chicago with the nonprofit's "straight A" distinction.
The Medical Center, which is the hub of the UChicago Medicine health system, is now one of just 18 hospitals or medical centers nationwide to earn consecutive "A" grades since The Leapfrog Group started its twice-a-year grading in June 2012.
"We're incredibly proud to be consistently recognized among the nation's best for patient safety," said Stephen Weber, MD, UChicago Medicine Executive Vice President for Clinical Effectiveness and the health system's Chief Medical Officer. "We've worked hard to ensure our hospital culture is focused on safety — an essential part of the exceptional patient care we provide. This award reflects the commitment, care and professionalism shown every day by our entire multidisciplinary clinical staff."
Leapfrog, a nonprofit organization, assesses nearly 3,000 acute care hospitals across the country. With publicly available data, it analyzes 30 national metrics reflecting errors, accidents, injuries and infections, as well as the systems the hospitals have in place to prevent harm. Based on each facility's performance, it awards them a Hospital Safety Grade from A to F.
The number of hospitals with consecutive "A" records has shrunk during almost every semiannual review. In 2017, 63 hospitals across the country received consecutive top "A" marks. Last fall, the number fell to 22 before shrinking further this year.
"Earning an 'A' Grade means UChicago Medical Center made a true commitment to put patients first," said Leah Binder, president and CEO of The Leapfrog Group. "We congratulate the leadership, board, clinicians, staff and volunteers that all had a role to play in this achievement."
Leapfrog's grading system is peer-reviewed, fully transparent and available to the public. Details can be viewed at HospitalSafetyGrade.org.
The Leapfrog Hospital Safety Grade is the only national hospital ratings program exclusively based on hospital prevention of serious medical errors, infections and injuries.
News from UChicago Medicine