Skip to content
Illinois Tech's Institute of Design and UChicago Medicine's innovation unit sign multi-year agreement to drive change in how and where healthcare is delivered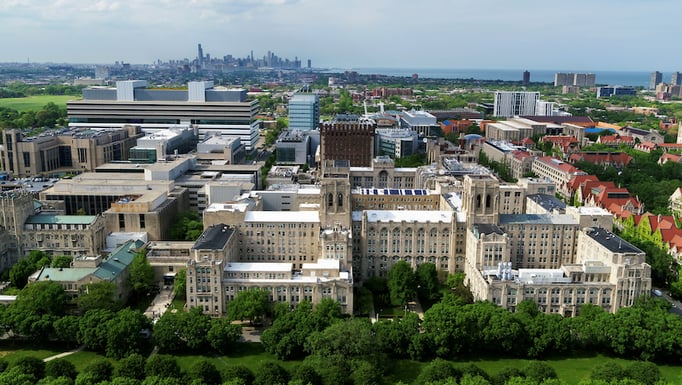 A new collaboration between the Institute of Design (ID) at Illinois Tech and an innovation unit at the University of Chicago Medicine aims to change how South Side patients, healthcare providers and communities deliver and receive medical care.
This two-year effort brings together ID's Equitable Healthcare Lab, which uses design methods to examine health systems processes and develop inclusive strategies and solutions, with UChicago Medicine's Center for Healthcare Delivery Science and Innovation (HDSI). The two South Side organizations will work together — with their respective students, faculty, staff and the local community — by leveraging human-centered design methods to improve patient and provider experiences. Human-centered design is a problem-solving methodology that integrates human needs, behaviors and goals into all phases of its development process.
Initial projects for the collaboration include designing a program to deliver hospital care in patients' homes, streamlining patient discharges, and optimizing trauma resuscitation in the Emergency Department, among other efforts.
"It's a natural fit for Illinois Tech and UChicago Medicine to collaborate as neighbors serving Chicago's South Side," says Illinois Tech Interim Provost Kenneth T. Christensen. "ID is an established leader in creating innovative design solutions to complex problems, and this partnership furthers our unique educational and research offerings in and our shared mission to serve the community and advance equity in healthcare."
As part of the unique engagement, Equitable Healthcare Lab designers will provide recommendations to implement new healthcare design solutions, provide training for health system employees and create knowledge-sharing opportunities based on the collaboration. In return, they will be able to access UChicago Medicine's state-of-the-art facilities and internationally renowned clinical experts while leveraging real-world settings to better understand and apply their work.
Meanwhile, UChicago graduate students studying bioinformatics, medicine and healthcare delivery science will receive joint instruction on human-centered healthcare design from UChicago and ID faculty. And Illinois Tech ID students will have an opportunity to research, inform and test new design methods on projects across the health system.
"The healthcare ecosystem is notoriously complex, but we believe this partnership will make important strides in making medicine fit all people," said Stephen Weber, MD, UChicago Medicine's Chief Medical Officer and Executive Vice President for Clinical Effectiveness who is also the senior advisor to HDSI. "This work is especially critical as our two institutions work together to develop tangible, practical steps to reduce health inequities and improve workflows that will lead to better outcomes for the communities we serve."
Building on previous success
Kim Erwin, Director of ID's Equitable Healthcare Lab and Associate Professor of Healthcare Design and Design Methods at the Institute of Design, has been a visiting scholar in HDSI at UChicago Medicine since early 2022. The new collaboration builds on her earlier work.
"HDSI has been an ideal partner because of its dedication to promoting new ideas and new approaches in healthcare," Erwin said. "Finding ways to infuse design into multiple parts of the UChicago Medicine healthcare system has been a great privilege, and I look forward to expanding on those efforts as our collaboration continues."
Both teams hope their optimization work will accelerate the understanding of human-centered healthcare design, provide mentorship opportunities and build capacity in the application of human-centered design and design methods while improving health system operations, patient safety, patient outcomes, and patient care delivery.
Already, Erwin and colleagues have worked with HDSI to bring new perspectives to high-priority health system projects by designing equitable healthcare delivery processes that improve outcomes, cost less and allow UChicago Medicine to serve more patients.
"We are excited about introducing more human-centered design approaches to our institution," said Sharon Markman, HDSI Director and Executive Director of Clinical Excellence, Innovation and Engagement. "One of our health system priorities is to provide safe, equitable, high-quality care. Our organizations' shared vision of listening to frontline providers, patients and the community creates a unique opportunity to merge two leading institutions and their research priorities."
ID's Equitable Healthcare Lab will continue to collaborate with UChicago Medicine's operational teams to introduce and expand design methods and to support innovation and discovery in their daily routines.
Common goals, complementary strengths
A research center fully embedded in the UChicago Medicine's prestigious health system, HDSI was established in 2016 to bring together teams that apply rigorous science to address pressing challenges in healthcare delivery. Uniquely positioned to gather ideas from the front lines of medicine, HDSI works to strengthen quality, safety, value and patient experience while sharing real-world innovations to other healthcare organizations around the globe.
ID is recognized worldwide as a pioneer in human-centered design, systems design and other methods that can be applied to address real-world problems and transform fields including healthcare, technology and education. The Equitable Healthcare Lab is part of the ID Action Labs initiative, launched in 2022. The Lab addresses inequity in healthcare delivery through demonstration projects, advising and capacity building, community engagement and funded research.
"Through the Action Labs, the Institute of Design becomes a driver for design-led implementation projects and a true resource for our neighbors," says the Dean of the Institute of Design Anijo Mathew. "Solution-oriented and human-centered, the Action Labs act as catalysts for systemic change within our community by taking faculty research and transforming it into real-world applications."
UChicago Medicine and Illinois Tech are both located on Chicago's South Side in the culturally rich and diverse communities of Hyde Park and Bronzeville.
"This collaboration gives both of our universities the opportunity to harness the shared academic strength of our faculty, staff and students to bring about substantial change that's focused on reducing health inequities to improve the lives of the people in the communities we each call home," said Mark Anderson, MD, PhD, Dean of UChicago's Biological Sciences Division.
The partnership between Illinois Tech and UChicago Medicine officially began in December 2022 and in its initial term is set to last for two years.
News from UChicago Medicine