Skip to content
David Frim, former Chief of Neurosurgery at UChicago Medicine, 1960-2023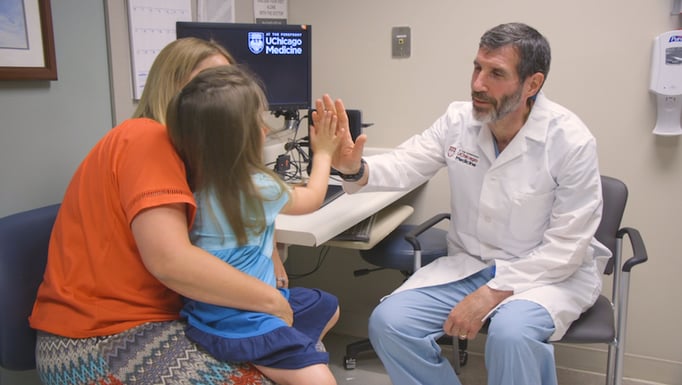 David M. Frim, MD, PhD, former Chief of Neurosurgery at the University of Chicago Medicine, died August 22, 2023. He was 63.
Frim, an internationally known pediatric neurosurgeon and researcher, was noted for his expertise in congenital brain anomalies and his compassion for his patients and their families.
He is survived by his wife of 34 years, Tammy Claman, and sons Daniel, Adam and Michael.
Frim was a Harvard-educated Boston native when he was recruited to come to UChicago Medicine. He arrived in 1996 and built a robust pediatric neurosurgery program, said Bakhtiar Yamini, MD, interim Chair of the Department of Neurological Surgery and director of Neurosurgical Oncology. Frim headed what was then known as the Section of Neurosurgery from 2007 to 2020.
Frim treated patients with a wide range of illnesses, but his niche was congenital disorders that can be difficult to manage, according to Yamini. These include Chiari malformation, in which the cerebellum protrudes into the spinal canal and restricts the flow of cerebrospinal fluid, and hydrocephalus, an abnormal buildup of fluid in the brain.
He would spend so much time with each patient and each family, and they adored him. He was a very kind man.
Patients would come to Frim from around the world. He continued providing care to pediatric patients after they became adults, sparing them the difficulty of finding a new physician who could manage their complex medical needs.
One patient recalled carrying a teddy bear into surgery and waking into recovery to find Frim had put the bear in scrubs and added a wound dressing to match hers. "I can't tell you how comforting that was," she wrote in a tribute to Frim on a memorial website. She went on to invite Frim to her wedding and introduce him to her daughter. "He was the reason I was alive to be married."
Texas native Baylie Owen became Frim's patient as a baby with a Chiari malformation. Her story brought national attention when, as a 6-year-old in 2005, she began selling handmade bracelets that raised roughly $70,000 for Chiari research at UChicago Medicine.
"Some may say this is a great thing (I'm sure he would, too) but he did TOO GOOD of a job with my treatment, since the last time I had to see him was roughly 5 years ago," Owen wrote on the memorial website. "I wish he could've seen the woman I am today. His influence on me throughout my entire childhood has made me a better human and I will forever be grateful for that."
"He would spend so much time with each patient and each family and they adored him. He was a very kind man," said Jeffrey B. Matthews, MD, Chair of the Department of Surgery and Frim's classmate at Harvard University and Harvard Medical School.
Margaret Hackett's parents found Frim after other doctors told her they could do nothing more for Margaret's hydrocephalus and craniometaphyseal dysplasia, which results in overgrowth of bones in the skull. That began a relationship that continued for many surgeries and many years, with Margaret Hackett now in her thirties.
Her family ultimately gave $2.5 million to establish the Margaret Hackett Family Center Program in CNS Congenital Anomalies in 2019 at UChicago Medicine to support research and be a resource for patients and families. Frim was program director.
"The connection he has with Margaret is incredible," her father, Bill Hackett, said at the time. "His advocacy for her has built a deep sense of trust."
Bob Carter, MD, PhD, Chair of the Department of Neurosurgery at Massachusetts General Hospital, credited Frim, his senior resident at Mass General, as "a powerful influence early in my career. The qualities he exuded—from his unwavering dedication and mentorship to his unique sense of humor—were infectious. He approached each day with fervor and commitment, always striving for excellence and bringing out the best in all of us. His legacy of inspired caregiving and leadership in mentoring is evident in our program today," Carter wrote on the memorial website.
He took pride in being able to solve the most complicated fluid dynamic problems in patients.
At UChicago Medicine, Frim was named Ralph Cannon Professor of Surgery in 2008. He was a fellow in the American Academy of Pediatrics and the American College of Surgeons, a member of numerous medical societies and associations, past president of the Chicago Neurological Society and former editor-in-chief of the journal Pediatric Neurosurgery.
He was an author on more than 150 scientific papers on cerebrospinal fluid dynamics, optimal methods of shunting to address abnormal pressure in the brain, surgical techniques to remove excess bone from the skull, and therapeutic management of blood vessel malformations, intracranial cysts, Chiari malformations and hydrocephalus.
"He took pride in being able to solve the most complicated fluid dynamic problems in patients. It can become very complex, and that was one of the areas that he was an expert in," Yamini said.
In 2007, Frim teamed with Janet Hutcheson, a patient's mother, and founded Discovery Camp for UChicago Medicine neurosurgery patients and their families. It offered a camp experience for kids who were often barred from activities like soccer, dodgeball or trampoline use because jostling could worsen their conditions. For parents, the camp provided a reprieve and a support system.
Outside of medicine, Frim's interests were broad: "Star Trek," "Star Wars," tennis, Arthurian legends, archery, swimming, running, Torah study and science, to name a few, said his son Adam during funeral services.
Frim was an active member of the Jewish community in Skokie. "Our father believed to his core in the goodness of the world and of God. He never doubted that things would turn out as they should," his son said.
In a letter written earlier to Frim and his wife and read during funeral services, Robert T. Michael, professor emeritus at the Harris School of Public Policy at UChicago, thanked Frim for compassion toward his wife, Nancy Michael, who saw Frim in 2004 after being diagnosed with a brain tumor.
"She broke into tears and told you that she had been fired three days earlier for poor performance over the previous month (this was because of the unknown glioblastoma). You said something like this to her: 'Well, we'll deal with this tumor this week and then, since you are a UChicago PhD research virologist, I'll hire you!'
"You did both. Nancy had a subsequent 18 months of good life thanks to the surgery you performed, and then thanks to the research work you assigned her. I believe her name is on a couple of your research papers. You gave her the satisfaction of knowing her research skills were still valued," Michael wrote. "I write to again say thank you."
Neurology & Neurosurgery Articles