Skip to content
Comer Development Board helps fund research, community programs and patient care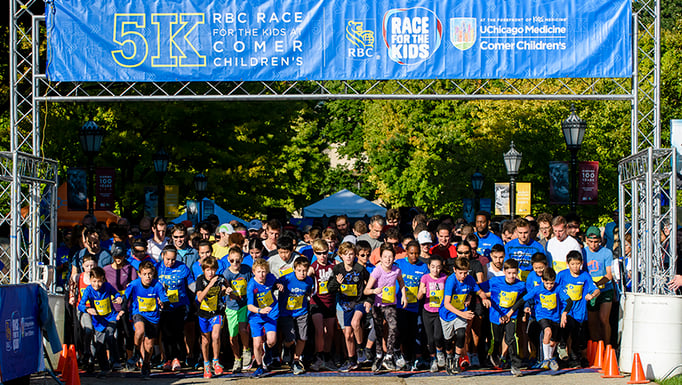 Participants line up for the 2019 RBC Race for the Kids, one of two major fundraising events held every year by the Comer Development Board.
Elise Oberman, MSN, APN, recalls the difficult decision faced by parents of a young girl with a rare immune system disease: Chemotherapy and a bone marrow transplant would treat her hemophagocytic lymphohistiocytosis, but the regimen to prepare her for the transplant would put her ability to one day have children at risk.
The decision to save their child's life was of course obvious, says Oberman, a pediatric hematology, oncology and transplant advanced practice nurse. But the parents were distressed they could not afford to pay the roughly $3,000 it would cost to remove, then freeze, egg-producing tissue from their daughter's ovaries — a procedure that could potentially preserve her fertility.
Fortunately, the Pediatric Hematology and Oncology Fertility Preservation Committee had recently received a $20,000 grant from the Comer Development Board for its Fertile Hope project.
"I told the parents I had funding to pay for her procedure," said Oberman, who helps run the project. "They were amazed and right away said they wanted it. Now, if this little girl decides to have children of her own, at least it's an option."
Since 2006, the Comer Development Board has raised more than $5 million for Comer Children's Hospital's innovative treatments and research. Every year, the board holds two major fundraising events: the RBC Race for the Kids, a 5-kilometer run or walk held in the fall, and the Bright Night Benefit in the spring.
Money raised in the spring helps pay for patient-care programs like Fertile Hope, while funds raised during the RBC Race for the Kids are used to support research. The board's co-president, clinical health psychologist Stephanie Ross, says the board's research grants often support work that would otherwise be overlooked.
"Certain projects we've provided seed money for have turned in to multimillion-dollar funded research with critical findings," said Ross. "That wouldn't have been possible without the board."
Over the years, the board has supported big-data research to reduce sepsis deaths in pediatric patients, has provided free car seats for parents in the community, helped fund a program for long-term patients wishing to decorate their hospital rooms, supported a sensory cart of specialized toys to comfort patients during medical procedures, and even purchased a pre-owned ambulance to train neonatal intensive care unit (NICU) physicians and staff.
"Our NICU team will experience being driven around (in the ambulance) to provide them with what they'll realistically face in the back of an ambulance when they're transferring newborns requiring complex care to our hospital," said Jeff Murphy, DNP, RN, Vice President of Women's, Children's, and Emergency Services.
The ambulance, purchased thanks to a $30,000 grant, will be emblazoned with the board's name. It's not the first vehicle to be supported by the board; it also funded a special van that provides basic healthcare to South Side neighborhoods. (The board reserves part of its funds for initiatives that support the local community.)
"Comer serves a community in dire need of access to healthcare, and there's a real need to share this awareness about the responsibility we have," said Ross.
The board consists of more than 30 volunteers serving three-year terms, and new members are being recruited in order to better reflect the patients and families being served by the hospital.
Last year, the board raised a total of $445,222, up 37% from 2020, despite its fundraisers being held virtually. Grant applications for research funds are available in November and awarded in January, while those for patient care are available in October and awarded in November. Applicants must present their proposals to the board as well as faculty and staff consultants.
"One of the reasons I applied for a Comer Development Board grant was that there's really limited funding opportunities available for pediatric patients when it comes to fertility preservation," said Oberman. "I'm very grateful the board recognized Fertile Hope as something that could really impact patients and their families in a positive way."
Pediatric Articles & News