Skip to content
American Hospital Association honors UChicago Medicine for leadership and innovation in quality performance improvement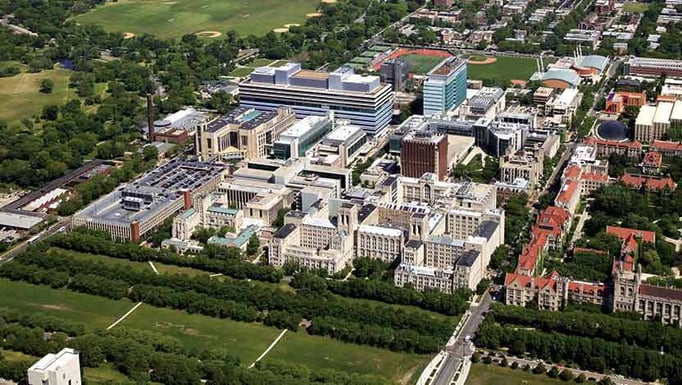 The University of Chicago Medicine has received a "citation of merit" from the American Hospital Association for its exceptional health care leadership and innovation in improving quality and advancing health in America's communities.
The Hyde Park-based academic health system and Atlantic Health System in New Jersey both received prestigious citations of merit from the industry association in their 2023 Quest for Quality program. Main Line Health in Pennsylvania won the overall prize.
All three were recognized during the AHA's Leadership Summit in Seattle on July 17.
"The many noteworthy achievements made by this year's AHA Quest for Quality Prize honorees have truly enhanced the efficiency, effectiveness and equity of health care within their respective communities," said Rick Pollack, AHA president and CEO. "Based on their innovative models of care, services and collaborations, they are exceptional champions of quality and very deserving of this recognition."
UChicago Medicine's equity strategy extends beyond its walls with multiple programs designed to address the complex health and social needs of its community.
UChicago Medicine, an academic health system based on Chicago's South Side, was recognized for its performance improvement efforts emphasizing diversity and equity. The organization has been collecting racial and ethnic data on patients for more than a decade. More recently, the health system was able to leverage that data to eliminate a major disparity in maternal health which led to younger Black mothers experiencing gestational hypertension at a higher rate than white women. The serious condition can lead to strokes.
To reduce the disparity, the hospital's obstetrical and quality teams provided patient education through multiple channels, created new internal processes for postpartum emergency room patients, developed a new postpartum hypertension clinic, added telehealth follow-up visits and sent new moms home from the hospital with free blood pressure monitors. Through those strategies, UChicago Medicine increased awareness of the risk of gestational hypertension among Black mothers and the rate dropped to a level equal to that in white mothers.
Today, the rate of severe delivery complications (called maternal morbidity) at the health system has fallen to about 2%, far below the Illinois average of 10%.
UChicago Medicine also is using its simulation center to promote equity by allowing clinicians to practice communication skills with diverse patients.
The health system's equity strategy extends beyond its walls with multiple programs designed to address the complex health and social needs of its community. A community council advises the organization on areas of interest to the broader community and has working groups focused on maternal and child health, trauma care and violence prevention, and adult health. The organization also uses patient and community focus groups to address diabetes management in patients of color.
"At University of Chicago Medicine, we integrate equity into every one of our quality and safety initiatives," said Tom Jackiewicz, president of the University of Chicago Health System.
The AHA Quest for Quality Prize is presented annually to organizations that are working to improve quality and advance health in their communities. The prize was first awarded in 2002.
News from UChicago Medicine