Skip to content
Ingalls Memorial and South Cook County EMS celebrate 50th anniversary of patient care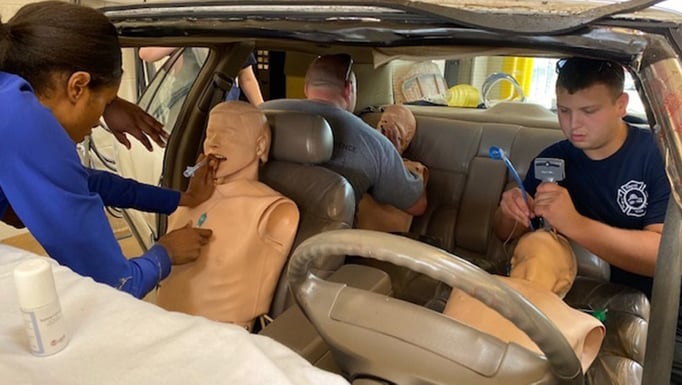 Ingalls Paramedic Program Advanced Airway Class
Before the 1970s, the survival of a South Cook County resident – whether they spiked a 103-degree fever or suffered traumatic injuries – often hinged on luck.
A family member, police officer or firefighter might drive the patient to the hospital, recalled Bernard Heilicser, DO, an emergency physician at UChicago Medicine Ingalls Memorial in Harvey. Some funeral homes ran ambulance services and transported the sick in hearses.
The national need for more structured, mobile medical care led to the first Emergency Medical Services (EMS) systems in 1969. Ingalls swiftly took notice, helping to coordinate and launch the South Cook County EMS in 1973.
Ingalls is celebrating its 50th anniversary as the "resource hospital" for South Cook County EMS, with responsibility over EMS services at seven area associate hospitals.
The designation puts Ingalls in charge of educational and clinical operations. These include coordinating almost 1,400 paramedics working for 39 municipal fire departments and three private ambulance companies.
The combined efforts provide emergency care to about 1 million people in the Southland, said Heilicser, who has served as Medical Director for the South County EMS for nearly 40 years.
Ingalls' role parallels that of University of Chicago Medical Center, Ingalls' parent company as well as another EMS resource hospital. Together, the two hospitals provide EMS services to a wide swath of the Chicago area.
"Our folks have saved thousands of lives and delivered countless babies," Heilicser said. "Our patient population is very fortunate to have these folks out there 24/7 for them."
Ingalls' role 'irreplaceable'
Local fire departments hire paramedics and buy ambulances, but EMS services are far too complex for any municipality to go it alone, South Holland Fire Chief Brian Kolosh said.
"We need the knowledge of our resource hospital. EMS is always changing, and with Ingalls always on the forefront of those changes, it's irreplaceable," said Kolosh, who trained as a paramedic at Ingalls.
For five decades, Ingalls has assumed the tasks of paramedic training, license renewals, ambulance inspections and meeting other state requirements, said Dawn McDermott, South Cook County EMS secretary.
The responsibilities don't end there. Every day, medical staff in the hospital are on the phone or radio consulting on cases with EMS personnel, said Karen Stanford, MBA, BSN, RN, NEA-BC, Director of Emergency Services & Urgent Aids at Ingalls.
"One of our key roles is helping with the coordination of care," she said.
Over the years, EMS has broadened its focus to provide more life-stabilizing care in the field before patients get to the hospital, noted Milissa Weber, BA, EMT-P, Ingalls Emergency Department Administrative Supervisor. Weber, who teaches EMS classes, served as a paramedic with the North Palos Fire Protection District.
Instructors must keep up with medical advances. Every time a new technique comes into play, Ingalls is responsible for training the paramedics to use it, Stanford said.
Paramedics used new measures to resuscitate a patient critically injured in a recent vehicle crash, Weber said. The man was rushed to Ingalls' ER and transferred from there to the UChicago Medicine trauma center, a process streamlined by the hospitals' merger in 2016.
"We need the knowledge of our resource hospital. EMS is always changing, and with Ingalls always on the forefront of those changes, it's irreplaceable."
"We make one phone call, and it puts the process in place to move the patient to where they can make a difference," Weber said. "Years ago, when I went to school, that patient probably would have been declared dead at the scene."
There to Help
Rich Hofeld has a deep appreciation for South Cook County EMS – both as the longtime mayor of Homewood and as a recipient of emergency aid.
Hofeld fell through the ice on a lake in 2017 while rescuing his dog at Izaak Walton Preserve in Homewood. A jogger called 911, divers helped Hofeld ashore, and an ambulance took him to the hospital, where he was treated for hypothermia. His dog, Annie, survived, too.
"I hear all the time how compassionate and helpful the men and women in the service are," Hofeld said. "They're excellent at it."
The partnership is crucial, Hofeld said. Mayors and fire chiefs work closely with one another and with Heilicser, himself a volunteer firefighter in Flossmoor.
Heilicser, also deputy medical director of the Illinois Medical Emergency Response Team and medical director of Illinois Task Force 1 Urban Search and Rescue, frequently goes to emergency calls in the South Cook County region.
"I'm there to help," Heilicser said. "There are some calls that are hard to forget. But one remembers all the wonderful calls. If you get a rescue in the field, that's a life saved."
News from UChicago Medicine