Skip to content
Southland RISE awards $150,000 to South Side community-based summer programs focused on trauma and violence prevention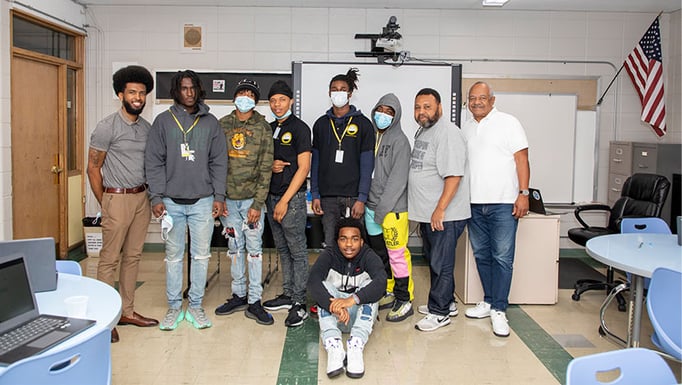 Southland RISE (Resilience Initiative to Strengthen and Empower), a collaborative between the trauma recovery programs of the University of Chicago Medicine and Advocate Health Care, is awarding 19 South Side community organizations with a total of $150,000 for their summer youth programs. These programs will provide more than 5,000 community members with opportunities to participate in a variety of activities that include dance, gardening, video production and sports, while also building their skills around leadership, resiliency and conflict resolution, among others.
Over the past five years, Southland RISE has awarded $650,000 to support more than 50 community-based programs focused on violence prevention and trauma resiliency for youth and families on Chicago's South Side.
"Young people in every community deserve access to spaces where they are not only safe, but where they can learn, laugh and become leaders," said Brenda Battle, RN, BSN, MBA, UChicago Medicine's Senior Vice President for Community Health Transformation and Chief Equity Officer. "Through Southland RISE, UChicago Medicine can partner with more community-based organizations and engage youth and families in creative and diverse programming that emphasizes violence prevention, resiliency from trauma and mental health."
The 2023 grant recipients will serve community members across 29 neighborhoods and 17 ZIP codes, primarily on the city's South Side. This year, three Southland RISE grantees are in the south suburbs. . One of the three, Disruptive INC, is serving residents in Harvey, providing STEM-related educational and career development resources to justice-impacted, single mothers who participate in their "Mother's Day Isn't Just in May" program.
Disruptive INC founder Catherine McNeil, MA, said her organization was truly grateful for the Southland RISE grant. "Because of this gift and belief in our program, we're able to fully sponsor so many deserving women and continue our work of engaging mothers who are moving into the next phase of their life post incarceration."
Southland RISE was launched in 2019 by UChicago Medicine and Advocate Health Care to strengthen and integrate the two health systems' violence recovery and trauma programs. Through Southland RISE, the two health systems are collaborating with community partners to prevent and mitigate the effects of intentional violence and strengthen trauma resiliency.
"We at Advocate Health Care are excited to see the work these organizations do throughout the summer to lift up children and families in our South Side and Southland neighborhoods," said Kim Miiller, PsyD, director of the Advocate Trauma Recovery Center. "These organizations empower children and adults through a variety of creative programs, help heal survivors of trauma and work to end the cycle of violence."
Southland RISE was inspired by U.S. Sen. Dick Durbin's Chicago HEAL Initiative (Hospital Engagement, Action and Leadership), which encourages Chicagoland's healthcare providers to help reduce community violence and address healthcare needs associated with violence recovery.
Building trauma resiliency is one of the top three health priorities for the South Side service area, according to UChicago Medicine's latest Community Health Needs Assessment (CHNA).
In the Ingalls Memorial Hospital service area in the south suburbs, a top priority is to reduce inequities caused by social determinants of health, including food insecurity and workforce development.
Advocate Health Care's community strategy addresses the key needs around violence mitigation and prevention. The system's interventions acknowledge that socioeconomic and environmental conditions where people live, work, play and grow have a direct impact on a wide range of wellness and quality of life outcomes. Advocate Health Care continues to expand the reach and integration of its Trauma Recovery Center services with an eye toward social inequities.
The Southland RISE grant awardees are all 501(c)(3) nonprofit organizations within the service areas of Advocate Health Care and UChicago Medicine. Here are the 2023 Southland RISE grant recipients and summaries of their summer programs:
Alpha Illinois Leadership Foundation
The Empowering YOU Project will bring together a team of community leaders to engage at-risk youth in leadership development trainings and activities. Participants will engage in discussions centered on college preparation and career goals, learning financial skills, improving communication skills, and engaging in community service learning.
Disruptive INC's "Mother's Day Isn't Just in May" career development program works with single mothers who are moving into the next phase of their lives, post incarceration. Participants will earn one of nine STEM certifications, receive help with job placement, career development, and general wellness and self-care support.
This summer, Englewood First Responders will expand its current violence prevention program to include mentorship activities to help participants heal from trauma and plan for the future. Mentors will provide life skills training covering financial literacy, social emotional learning, stress management and communication.
Fathers, Families, & Healthy Communities (FFHC)
FFHC is offering a 14-week, curriculum-guided, peer-supported program for formerly incarcerated fathers of all ages. The program utilizes a trauma-informed care program model to create an environment that is peaceful, safe and empowering for fathers and staff.
Through this program, youth ages 5 to 14 will participate in a six-week dance immersion day camp. In addition to daily dance instruction, grant funding will support a curriculum that works to build social-emotional learning through character development, violence prevention, journaling for self-reflection and education in health and fitness.
Over the summer, Ignite's Street and Community Outreach Team will visit community centers, social services agencies, schools, and community events, as well as ride transit, to conduct in-person outreach across the South Side. . They will focus on building relationships with young people experiencing homelessness and connecting them to community.
Institute for Nonviolence Chicago
The group's Back of the Yards Violence Reduction Project will continue its work reducing the rate of gun violence in their community during the summer. Plans include canvassing, responding to target area shootings and homicides in the neighborhood, performing conflict mediations and holding pop-up events.
Kids Above All helps connect young people with counseling support and tools they need to heal from trauma.
Their "Becoming Me" program is a 15- to 20-week mentorship program for youth who are at risk of being impacted by violence. Program specialists will provide group and individual support to help teens establish personal and professional goals.
Kids Off the Block's Summer Youth Project is focused on community violence prevention, health improvement and skill-building for high-risk children and youth. With their grant funding, Kids Off the Block expects to engage an additional 450 children and youth in activities during the summer. Programming will work to improve the physical, mental, social and economic well-being of at-risk children and youth in the target communities.
The goal of the club's "Sewing Seeds of Peace" project is to promote access to healthy food and community activities to address root causes of violence. The program will train at-risk youth in urban agriculture, beautify and create a safe space for the community, and activate the community garden with a youth-organized resource fair. Students will also learn about the impact food has on mental health.
New Eclipse Community Alliance
New Eclipse's "Resilience & Voice" summer program will focus on mental wellness, trauma healing, restorative justice and urban farming, with the main goal of providing healthy coping mechanisms and peaceful conflict resolution strategies. The program aims to provide a safe space for youth who reside in New City and other surrounding neighborhoods during the summer months.
Through its Peace League and Leadership Development Program, PeacePlayers provides opportunities for young people to come together over the summer and engage with their peers, locally and from other communities. The program will help participants on Chicago's South Side engage in team-building exercises and develop relationships.
Restoring the Path (dba Crushers Club)
Grant funding will help Crushers Club extend its programming hours during the critical summer months with activities that include peer mentoring, employment and job skills training, counseling, boxing, creative arts, recreational activities, field trips and community gatherings. Grant funds will support the summer hours of Crushers Club's new Trauma Specialist.
In addition to its regular summer programming, Sacred Ground Ministries is adding Culinary Arts programming for high school students to prepare them for job opportunities in hospitality, catering and fast-food restaurants. Participants will receive their Illinois Food Handler and Sanitation Certifications Card, and will help beautify the neighborhood in collaboration with their partner, NeighborSpace.
Something Good in Englewood will offer summer enrichment programing in a safe environment to help the youth of Englewood and the surrounding areas engage in character development, socially connective learning, and cultural competency and exploration. Key activities will include literacy programming, cultural education, arts and crafts and field trips.
Talented 10th College Prep and Career Mentoring Program
The summer program's focus is on leadership development and strengthening engagement between seniors and youth in the community. The youth and senior volunteers will work together in the community garden – harvesting, planting, weeding, and building relationships. Young participants will benefit from programming in education, skill building, civic engagement and role modeling. Participants also will have access to community resources, family engagement activities and integrated counseling supports.
With the grant funding, True Star will expand and enhance its #ChangeChi violence prevention campaign to reduce violence in South Side communities this summer. Funding will support implementation and training of facilitators of the Mood Program at community organizations. Developed by students and staff, the Mood Program and workbook contain information, self-assessments, role-play and other activities, as well as written reflections on topics including emotional intelligence, self-awareness, self-regulation, relationships and social skills.
Urban Initiative's Summer Sports Camp provides a fun environment that focuses on social-emotional learning (SEL) for 1st through 5th graders participating at partner schools. Summer of Sport uses sport and play as a vehicle for facilitating social and emotional growth through team sports, camp games, supervised free-play and creative activities. The curriculum focuses on experiential SEL learning that takes place through activities with embedded reflection.
What About the Children Here (W.A.T.C.H.) Corp
The program aims to make reading fun and engaging for children, increase their reading comprehension, and build relationships between schools, families and community organizations. The program's activities include engaging children in reading activities, building libraries within their homes and partnering with local libraries.
About Southland RISE

Southland RISE (Resilience Initiative to Strengthen and Empower) is a collaborative between the trauma recovery programs of Advocate Christ Medical Center in Oak Lawn and Hyde Park-based UChicago Medicine. Inspired by U.S. Senator Dick Durbin's HEAL (Hospital Engagement, Action, Leadership) Initiative, the two hospitals work together and alongside community partners to improve long-term trauma recovery care and mitigate violence-related injury on the South Side and in south suburban Chicago.
Trauma and Violence Recovery Articles