Skip to content
Award-winning arts program for patients with dementia marks 10 years at UChicago Medicine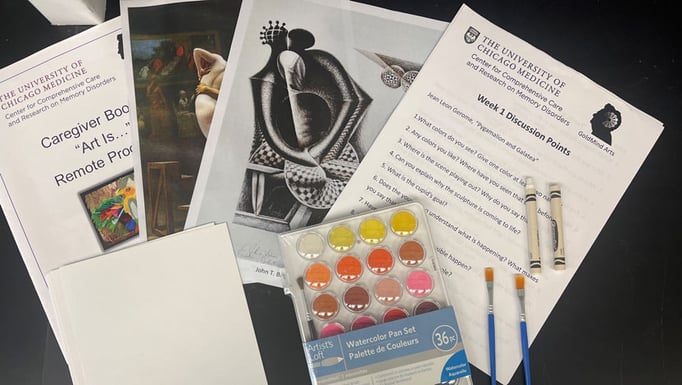 An "Art Is ... In" kit contains all of the necessary art supplies, a print of a famous painting, discussion questions and a vintage poem or song to read aloud.
Ten years ago, Fabiana Goodman came up with an idea for a curated art program for people with memory loss and their caregivers.
The arts advocate brought her concept to the University of Chicago Medicine's Memory Center, and "Art Is … In" became an award-winning, nationally known program.
Launched as a small, in-person class on the hospital's Hyde Park campus in 2013, the program transitioned to home-delivered kits to reach more patients with dementia, Alzheimer's or cognitive impairment.
"Their kits are engaging and enriching for everyone," said Goodman, executive director at GoldMind Arts and Aging in Chicago. "Doing the arts has been proven to make people feel happier and less isolated across the board."
Today, the "Art Is … In" program mails kits with an art project and supplies, discussion questions, and a vintage poem or song to read aloud. More than 4,000 kits have been delivered in 28 states.
As "Art Is … In" marks its 10th anniversary at UChicago Medicine, demand continues to grow. In October alone, Memory Center student volunteers packed and mailed 438 art kits, Goodman said.
"It's much, much more than just an art project," said Tessa Garcia McEwen, AM, LCSW, CDP.
A social worker and certified dementia practitioner at the Memory Center, McEwen receives feedback from caregivers on how the kits inspire positive mood shifts and engaging discussions — proven benefits of integrating creative arts into memory care.
Arts inspire conversations, joy
"Art Is … In" kits are free to anyone living with memory loss, even nonpatients of UChicago Medicine. And they're designed to inspire thinking and friendly chat.
For example, a kit with a print of a Winslow Homer seascape may be accompanied by such questions as:
What does the ocean smell like?
When you were growing up, was there a pond where you went to?
How would you describe this photo to me if you were on the phone with me?
One woman told her caregiver that the Homer painting reminded her of fishing for catfish as a child, which led to a lively discussion about cooking fish and recipes for fried chicken. The excitement of receiving a package in the mail is an added benefit, Goodman said.
"We hear from a lot of people, 'We don't have fun at home. Days are long. The TV is on all the time. It's hard to get out of a normal routine,'" she said. "These kits mean a little bit of rainbow and glitter shows up at your door and you have some unexpected things to talk about and look at."
How to get your own art kit
"Art Is … In" has earned two national awards for its innovative approach to caregiving: the Healthcare Leadership Council's Redefining American Healthcare Award; and the Innovations in Alzheimer's Caregiving Award from the Family Caregiver Alliance, The Rosalinde and Arthur Gilbert Foundation and Bader Philanthropies, Inc.
The program is one of many creative arts therapies offered at UChicago Medicine's Memory Center, also known as The Center for Comprehensive Care and Research on Memory Disorders. An at-home music therapy program is growing in popularity.
To register for an "Art Is … In" kit, visit https://thememorycenter.uchicago.edu/artisin.
Alzheimer's Disease & Dementia Care at UChicago Medicine
Learn more about the Alzheimer's Disease and Dementia care services offered at UChicago Medicine.
Learn more
Neurology & Neurosurgery Articles