Skip to content
Ingalls Memorial offers mental health workshops for South Suburban residents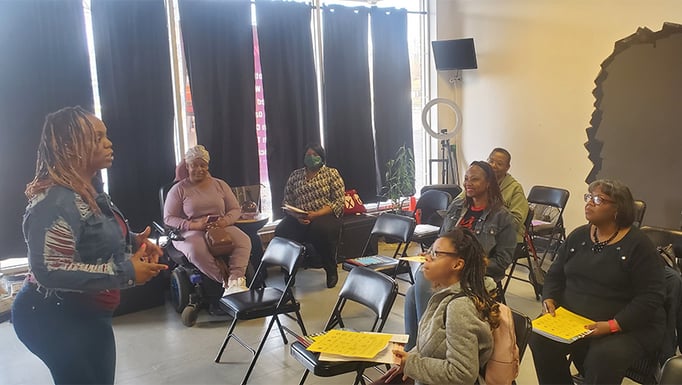 Myoshi Watts, owner of Armored Fitness and Nutrition, speaks with participants of the April Mental Wellbeing Spring Series session.
Harvey, Illinois, home to UChicago Medicine Ingalls Memorial Hospital, has one of the highest rates of mental health-related emergency room visits in all of Cook County according to the 2021 – 2022 UChicago Medicine Ingalls Memorial Community Health Needs Assessment (CHNA).

The Mental Wellbeing Spring Series, created and facilitated by Felicia Houston, MA, LCPC, CWA, a licensed clinical professional counselor, is a free workshop series created to help those in Chicago's south suburbs understand and manage their mental health and wellbeing.
The CHNA determined that access to mental health care and services was a top health priority for those living in the 13 ZIP codes that make up UChicago Medicine's Ingalls Memorial community benefit service area. Major mental health concerns include the stigma associated with mental illness, particularly in communities of color, and the need for mental health education among youth.

Houston created the series at the request of Ingalls leadership to help address mental health needs and disparities in the south suburbs. Through the workshops, participants are empowered with ways to understand and better manage their mental health and wellness.

Offering both in-person and virtual sessions between April and July, the recent Mental Wellbeing Spring Series focuses on a different mental health topic for each workshop. Anyone is welcome to participate.

The April workshop, entitled "Stress Less, Live More," was held at Armored Fitness and Nutrition in Hazel Crest, Illinois, and was tailored for women's unique needs. Designed to provide participants with the tools to tackle stress and create balance in their lives, the workshop addressed the relationship between stress and mental health, and identified practical coping and stress management skills. For example, Houston explained why prioritizing sleep, healthy eating habits and daily movement are the foundations of managing stress and living a more balanced life.

In addition to the kickoff event in April, Houston facilitated a virtual workshop in May and plans to offer more virtual sessions in the upcoming months.

"There are so many advantages to a virtual option. Not only is it convenient, but we can reach people who may never step foot in the University of Chicago Medical Center," said Houston.

May's hourlong virtual session focused on the impact of COVID-19 on mental health and drew 11 participants from across Chicagoland. Attendees learned about the stigma associated with talking about mental health and effective strategies for managing emotions.

UChicago Medicine staff members also participated. Suzanne Lino, MSW, found the session valuable in addressing mental health concerns that can affect anyone.

"I think this workshop series is so important. Everyone's mental wellness changed due to the pandemic," said Lino, Community Benefit Project Manager at UChicago Medicine. "I know for me, as someone who works in a 100% remote capacity, it's key to be intentional about taking mental health breaks."

According to Houston, mental health breaks can lower heart rate, center the mind and promote relaxation in the midst of a stressful situation. A mental health break can look like taking a walk around the block, calling a friend for a 10-minute chat or listening to a favorite song.

Houston hopes to offer more mental health workshops in the future, especially for youth in the community.

"The positive response has been overwhelming — the community wants more sessions," said Houston. "There is a huge need for additional mental health services in the south suburbs. These workshops are transforming communities … one resident at a time."

The next Mental Wellbeing Spring Series session will take place on Wednesday, June 14 at 12 pm CDT. Join Houston as she leads a workshop on the importance on self-care. Visit ow.ly/q1JB50Nznag to register.
Health and Wellness Related Articles