Skip to content
Longtime nurse turns to Ingalls for rehab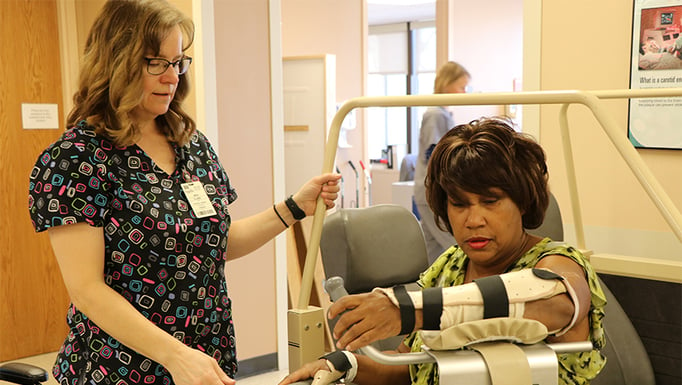 When a University of Chicago Medicine nurse was seriously injured after an overseas medical mission trip, she quickly learned the value of having easy access to a health system that could provide her a continuum of care.
For the last three years, Joslyn Smith of South Holland has attended mission trips with the Hackett Hemwall Patterson Foundation, a service organization that provides medical care and materials to underserved people in Honduras and Mexico.
As a surgical ICU nurse, she knew her skills and experience could be used outside of her job. "I want to give back, and I want my life to make a difference," said Smith, 62, who has been a nurse for 43 years.

In March, Smith went on mission trip to Honduras with doctors and other nurses from across the United States, assisting in 24 ear-nose-throat surgeries in an underserved community.
After the weeklong mission, several members of the group traveled to the island of Roatan to enjoy a vacation. During a golfing excursion, Smith lost control of and was thrown from a golf cart, which eventually rolled on top of her.
She sustained multiple injuries including a lumbar spine fracture, a fractured pelvis, rib and ulna injuries on her left side, and a broken right thumb. Smith spent a day at a Honduran hospital before being airlifted to Fort Lauderdale, Florida. She underwent surgery at Broward Health Medical Center to repair her fractured pelvis before traveling back to Chicago.
She had additional surgery at UChicago Medicine's Hyde Park campus to place a titanium rod in her arm. Following a brief recovery, Smith turned to UChicago Medicine Ingalls Memorial in Harvey for inpatient physical and occupational therapy.
Smith already knew of the 2016 merger between UChicago Medicine and Ingalls Health System to combine a top community hospital in Chicago's Southland with one of the country's leading academic medical institutions. The partnership sought to improve access across the spectrum of care — from routine appointments such as preventative checkups to complex, life-sustaining treatments such as organ transplantation.
So, when a neighbor and relative recommended Ingalls, and realizing the facility was only a few miles from her home, Smith knew where she wanted to go for her continued recovery.
"My journey here has been nothing but fantastic," she said. "Ingalls is a jewel. I needed intense, acute rehab, and the therapists here have been outstanding."
Michael Marinko*, MD, of Rehabilitation Specialists of Chicago, oversaw Smith's rehabilitation.
"When a patient has worked in health care, they have a basis of understanding, but Joslyn has demonstrated an incredible attitude and understanding of her condition," Marinko said. "She pushed herself to improve using non-narcotic pain management."
Smith spent two weeks at Ingalls working one-on-one with physical and occupational therapists to learn how to move with her injuries.
"I went from not being able to get out of bed to being able to walk with a walker, maneuver in my wheelchair, get in and out of the car, walk up stairs and curbs, and more," Smith said. "Even as a nurse for 43 years, I didn't know much about rehab. As a patient here, I've learned everything I need to know to be successful and safe at home."
Marinko said patients play a vital role in their own recovery.
"Our therapists look at how well patients understand their injury, pain management, nutrition, and sleep, and prepare them to thrive in a home setting," he said. "It's truly a community-based rehab program."
*Dr. Michael Marinko is an independent medical practitioner and is not an employee or agent of Ingalls Memorial Hospital or University of Chicago Medical Center ("UChicago Medicine").
Therapy and Rehabilitation Services
University of Chicago Medicine's therapy and rehabilitation services specialize in the treatment of injuries and disorders — particularly those sustained by trauma, orthopedic or neurological injury, burns, cancer or wounds.
Learn more about our services and expertise
Health and Wellness Related Articles