Skip to content
Together We Answer Cancer: A reunion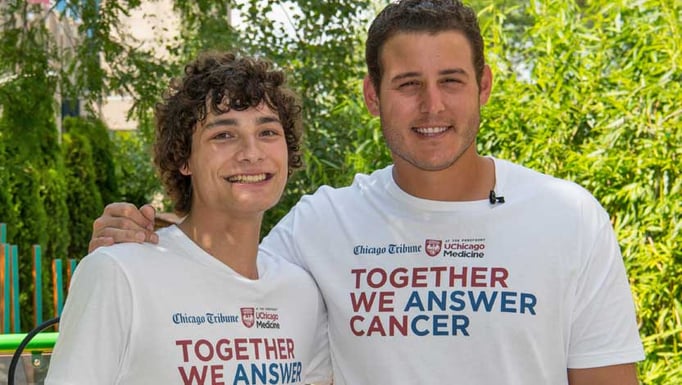 Anthony Bendy and All-Star first baseman Anthony Rizzo.
Anthony Bendy feels a special connection to Chicago Cubs first baseman Anthony Rizzo. They not only share the same first name, they also were diagnosed with the same cancer at almost the same age.
"Anthony Rizzo helped me get through Hodgkin lymphoma — twice," said Bendy, 22, of New Lenox, who has been a Cubs fan since he was a young boy.
The first time was in 2016, soon after Bendy, then 19, arrived at the University of Chicago Medicine Comer Children's Hospital to start cancer treatment. His mother, Jennifer, wrote the Anthony Rizzo Family Foundation, desperate to lift her son's spirits the night before his first chemotherapy treatment.
The next day, a photo of Rizzo holding a big poster with the words "Stay Strong Anthony" arrived by email.
"That was the first smile we had gotten out of Anthony since the day we found out he had cancer," recalled Jennifer.
Anthony Rizzo and Anthony Bendy: Together We Answer Cancer
The lymphoma went into remission after chemotherapy. But, in 2018, the cancer returned. Bendy had started another round of treatment when he was presented an opportunity to help launch a cancer awareness campaign in Chicago with Rizzo.
"It was so cool to meet him and talk to someone who I look up to," said Bendy, "especially someone who has been through what I've been through and who can relate to me."
Bendy and Rizzo are teaming up once again to promote Together We Answer Cancer — a new campaign that brings together the Chicago Tribune, UChicago Medicine and the Anthony Rizzo Family Foundation to support the American Cancer Society's mission to free the world from cancer by raising funds for research.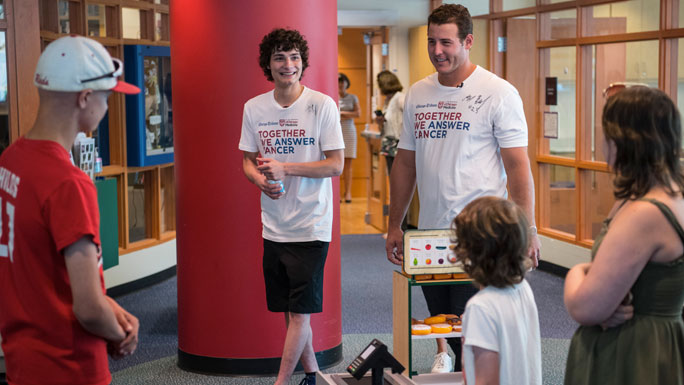 A win for Rizzo
Anthony Rizzo was 18 and on his way to living out his dream to play Major League Baseball when he was diagnosed with Hodgkin lymphoma.
"It was surreal for me and my family," he said. "But we decided to hit it head on."
Fortunately, the cancer went into remission after six months of chemotherapy, and Rizzo was able to pursue his career.
Remembering how difficult the fight against lymphoma was, not just for him but also for his loved ones, he established the Anthony Rizzo Family Foundation in 2012. Since joining the Rizzo family, Anthony's wife, Emily, has become very active with the foundation.
"We support children and their families when they are going through a very difficult time," Emily said. "We help so they don't feel like they are so alone."
On a recent visit to Comer Children's, the Rizzos and Bendy spent time with several young patients to share words of encouragement and hope.
"If I can make a patient smile for five minutes, that's a win for us," Anthony Rizzo said.
Bendy's story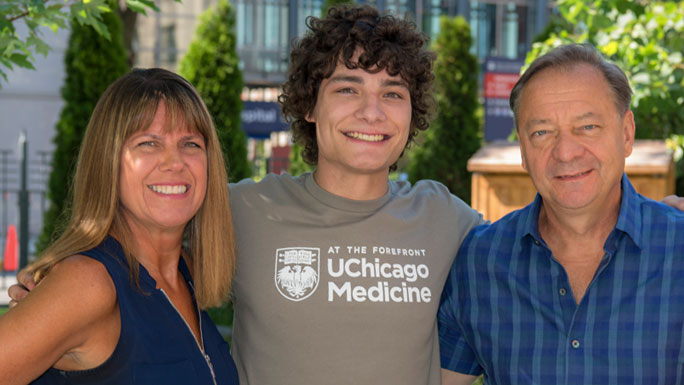 During his freshman year of college, Anthony Bendy often called his parents complaining of fatigue and upper respiratory symptoms. But it wasn't until their son returned home after final exams that his parents became alarmed.
After noticing a large lump on his neck, Jennifer and Jeffrey Bendy took their son to nearby Silver Cross Hospital. A biopsy revealed Hodgkin lymphoma.
"The doctor takes you in a room to tell you what's going on," his mom said. "I went back up to the patient floor and I'm just crying and shaking. How do I tell my son he has cancer?"
UChicago Medicine oncologists at Silver Cross reassured the family and referred them to the Adolescent and Young Adult (AYA) oncology program based at Comer Children's on UChicago Medicine's Hyde Park campus.
"And that's how we met Dr. McNeer," his mom said. "She has been amazing. I can't say enough about her and the rest of the doctors and nurses on the cancer team at Comer Children's."
Pediatric hematologist/oncologist Jennifer McNeer, MD, is an expert in childhood cancers, including leukemia and lymphoma. As co-director of the AYA program, she helps teens and young adults navigate their cancer journey and move forward with their lives.
"I told Anthony and his family that the cancer was a pause in his life to get through and then life would continue on," McNeer said.
But the pause took longer than Bendy, his family and his care team had hoped. Although the cancer went into remission after five cycles of chemotherapy, a routine scan one year later led to a biopsy that revealed the lymphoma had come back.
The next course of treatment, which began in spring 2018, included chemotherapy to get the cancer back into remission, followed by a stem cell transplant and a yearlong course of a new immunotherapy that targets Hodgkin lymphoma cells.
UChicago Medicine has one of the leading stem cell transplant programs for adults and children in the Midwest. Bendy's transplant was performed by James LaBelle, MD, PhD, and Michele Nassin, MD, both clinicians and researchers in pediatric stem cell transplantation, immunotherapy and other emerging cellular therapies for childhood cancer.
"Anthony did such a great job during this second phase," Nassin said. "He had no complications during or after his transplant."
Bendy looked at this final round as another battle to prepare for and get through. Meanwhile, he enrolled in a nearby community college, where he has continued his studies and joined the wrestling team.
He completed treatment in June 2019. His care team at Comer Children's and his family are optimistic that the cancer will not come back.
Anthony's doing very well," his dad said. "He's doing the things that he really wants to do and has a vision of who he wants to be."
Bendy is ready to move forward.
"Wherever life takes me, it will take me and I will keep my head up," he said. "And I'll always appreciate everything I have and all the people around me."