Skip to content
Physicians reflect on practice-changing discoveries, trends at ASCO 2022
University of Chicago Medicine oncologists recently attended the 2022 American Society of Clinical Oncology (ASCO) Annual Meeting, held June 3-5 in Chicago. Thousands of abstracts featuring the latest in cancer research were presented during educational, poster, oral and other sessions. Below, UChicago Medicine Comprehensive Cancer Center and UChicago Medicine physicians discuss what they thought were the most impactful studies and innovative trends at the conference.

Steven J. Chmura, MD, PhD
Professor of Radiation and Cellular Oncology and Medicine
I would highlight NRG-BR002 trial: "Adding Ablation to Systemic Therapy Fails to Boost PFS in Oligometastatic Breast Cancer."

While prior single-arm trials demonstrated a progression-free survival (PFS) and overall survival (OS) benefit to ablation of metastases in patients with limited (less than five) metastases, no randomized and stratified data existed in first-line metastatic breast cancer. Despite the lack of evidence, adoption of this intervention to treat patients across the world has been extensive. NRG-BR002 was a phase 2/3 trial stratified by breast cancer subtype, use of systemic therapy, and number of metastases in first-line metastatic breast cancer.

The addition of ablation (radiation or surgery) failed to improve the primary endpoint of PFS and had no signal for overall survival. The ablative therapy also failed to stop new metastases from forming (40% in both arms) – rejecting the hypothesis as to why ablation would work. These results show that ablation of oligometastatic disease in first-line metastatic breast cancer is not a general therapeutic strategy and this practice – particularly in the ER positive/HER2 negative population – should end. The patients, investigators and NRG Oncology should be commended for putting their bias aside and developing and completing this trial over the last 15 years.

Gini Fleming, MD
Professor of Medicine

For me, the obvious practice-changing data were the plenary session showing efficacy of trastuzumab deruxtecan in women HER2-low expressing breast cancer (DESTINY-Breast04). Progression-free survival (PFS) was nearly doubled compared to "physician's choice therapy," overall survival (OS) was also improved, and this is a drug with manageable toxicity that breast oncologists already use in women with more traditional higher levels of HER2 expression/amplification.

Tara Henderson, MD, MPH
Professor of Pediatrics

I was very excited to attend the lymphoma session on Friday, June 3. Drs. Stephen Ansell (Mayo Clinic) and Sharon Castellino (Emory University) presented the updated analysis of the ECHELON-1 study and the outcomes of the Children's Oncology Group AHOD1331 studies, respectively. These studies both examined the efficacy of brentuximab vedotin incorporated into standard chemotherapy for high-risk Hodgkin lymphoma in adults and children. The results were remarkable. Particularly for AHOD1331, there was almost a 10-point improvement in event-free survival (EFS) for children with high-risk Hodgkin lymphoma. These two studies established that incorporation of brentuximab vedotin is the standard of care for high-risk Hodgkin lymphoma in children and adults.

Andrzej Jakubowiak, MD, PhD
Professor of Medicine

We saw several important developments regarding the treatment of multiple myeloma at this past ASCO meeting. I would like to highlight the results of two studies, a phase 3 randomized DETERMINATION trial conducted in the U.S., with our participation, which was presented by Dr. Paul G. Richardson (Dana-Farber Cancer Institute) at a plenary session, and the results of a phase 3 randomized ATLAS trial, that was coordinated by the University of Chicago in collaboration with the Polish Myeloma Consortium, which was presented by Dr. Dominik Dytfeld (Poznan University of Medical Sciences, Poland) at the plasma cell disorders oral session.

The DETERMINATION study re-evaluated the role of early versus deferred transplant in patients with newly diagnosed myeloma treated with RVD, which is a combination of lenalidomide, bortezomib, and dexamethasone, followed by lenalidomide maintenance until disease progression. The study confirmed the results of the French study IFM2009 that found that progression-free survival (PFS) was better for those who received a transplant soon after starting RVD therapy versus the deferred transplant group. In addition, the study results indicate that lenalidomide maintenance until progression may be superior compared to a fixed one-year course of lenalidomide maintenance, as PFS for both groups in the DETERMINATION trial was superior compared to IFM2009 with shorter fixed one-year lenalidomide maintenance.

The ATLAS study evaluated whether post-transplant KRd therapy, which is a combination of carfilzomib, lenalidomide, and dexamethasone, can improve outcomes of post autologous stem cell transplantation maintenance with a single agent lenalidomide, which is an established standard of care. This interim analysis of an ongoing study provided the first indication that the risk-adapted and minimal residual disease (MRD)-directed post-transplant KRd treatment significantly improves PFS compared to lenalidomide alone. The authors and the study discussants at ASCO concluded that extended post-transplant KRd therapy may represent a new standard of care.

Sonali M. Smith, MD
Elwood V. Jensen Professor of Medicine

I served as the scientific program committee chair for this year's ASCO conference, so I had a hand in designing the program. Our theme this year was advancing equitable care through innovation, and a number of abstracts looked into healthcare disparities and the impact of the Affordable Care Act in different populations. Another focus was clinical trials conduct in the United States, including where the funds flow, threats to academic medicine in terms of support, the workforce and labor shortages, and how this impacts cancer patients.

We also featured some high-impact work that I think is going to change the way people practice. One that garnered a lot of excitement looked at patients with metastatic breast cancer. For 20-plus years, we have had a monoclonal antibody to treat HER2 patients who strongly express the protein, but not one to treat patients with low expression. Investigators looked at low expression HER2 and conducted a randomized trial using the antibody drug conjugate trastuzumab deruxtecan. They found that the drug doubles progression-free survival (PFS) compared to using chemotherapy alone. This means the drug can extend survival when before these patients typically had only a few months to live. More than 12,500 people attended the presentation, and they all gave the researchers a standing ovation at the end.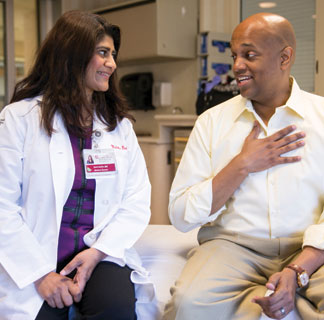 UChicago Medicine Comprehensive Cancer Center
UChicago Medicine is designated as a Comprehensive Cancer Center by the National Cancer Institute, the most prestigious recognition possible for a cancer institution. We have more than 200 physicians and scientists dedicated to defeating cancer.
Learn More About the Comprehensive Cancer Center