Skip to content

Life as a teenager can be hard. It can be especially challenging when coping with cancer. Teens often have extended hospital stays due to cancer treatment and don't have a place to call their own — a place in the hospital that offers some freedom. For this reason, the University of Chicago Medicine, with the support of Teen Cancer America, created a beautiful new lounge for teens and their loved ones.
Located on the second floor of the Comer Children's Hospital at the University of Chicago Medicine, the 240-square-foot room is bright and cozy, filled with bold hues of red and blue and splashes of yellow that would put a smile on any face.
The facilities planning team worked with the Comer Children's Teen Advisory Board, a group of current and former teen patients who provide input on services offered by the children's hospital. The board weighed in on the vision and purpose of the room in addition to helping devise design concepts.
"These kids had wonderful ideas about what the space should be," said Natasza Naczas, facilities planner. "They came up with the color schemes and even provided insight on the artwork that should be in the space. It was a very fun process."
A unique Chicago skyline mural dominates the space and generates pride in the city. The teens also approved artwork by acclaimed South Side graffiti artist Hebru Brantley, whose work has been purchased by several celebrities including hip-hop mogul Jay-Z.
While lounging on the colorful modern furniture, patients can enjoy Xbox and Playstation gaming systems. They can also access the GetWellNetwork in the room and stay connected to their treatment and care plans.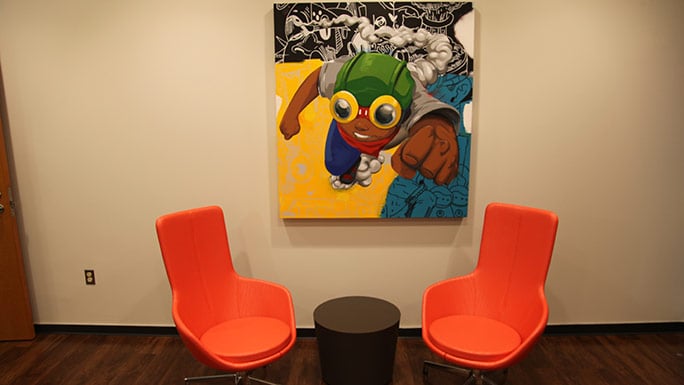 In addition to the lounge, the waiting area just outside the room was upgraded to include additional plug-in spots for personal devices and new seating options for relaxation.
Teen Cancer America partners with hospitals throughout the United States to develop specialized facilities and services for teens and young adults with cancer. They build teen-friendly environments, enhancing the hospital experience. They also develop standards for age-targeted care, improve collaboration between pediatric and adult specialists, and enable dedicated research to improve outcomes and survival.
Pediatric Cancer Articles