Skip to content
Groundbreaking research presented at 2023 AACR Annual Meeting by world cancer community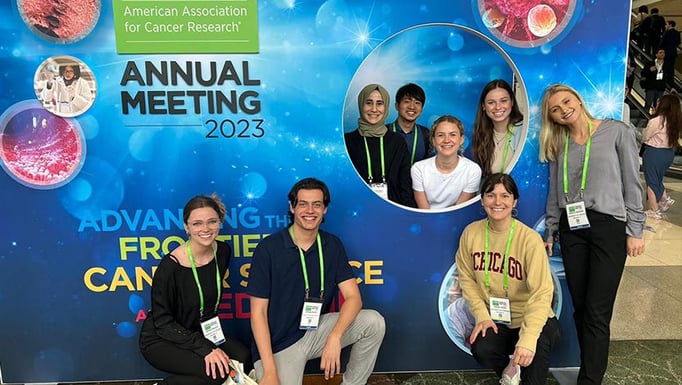 The 114th Annual Meeting of the
American Association for Cancer Research (AACR)
was held April 14-19, 2023, at the Orange County Convention Center in Orlando, Florida. AACR is committed to advancing the field with cutting-edge cancer research that transforms patient outcomes, which is reflected by the meeting's theme of "Advancing the Frontiers of Cancer Science and Medicine."
At the 2023 AACR annual meeting, plenary sessions, symposia and more than 6,000 oral and poster abstracts covered the hottest topics in cancer research, including breakthroughs in early detection, the importance of community engagement, understanding disparities, embracing immune ecosystems, new concepts in anti-cancer drug development, identifying novel targets and developing next-generation cancer therapeutics.
The University of Chicago Medicine Comprehensive Cancer Center
had an opportunity to join the world cancer research community at AACR and have our faculty, researchers and trainees showcase their research.
Selected highlights are featured below:
Kunle Odunsi, MD, PhD
, AbbVie Foundation Distinguished Service Professor of Obstetrics and Gynecology, Director of the Comprehensive Cancer Center, chaired and presented in an educational session on enhancing responsiveness to cancer immunotherapy. Odunsi also hosted a Cancer Immunology Working Group town hall meeting with a theme of "Cancer Immunoprevention."
Caner Saygin, MD, Hematology-Oncology Fellow, chaired and presented in an education session addressing new insights into the pathogenesis of acute lymphoblastic leukemia (ALL) in older patients.
Hedy Lee Kindler, MD
, Professor of Medicine, Medical Director, Gastrointestinal Oncology and Director of the Mesothelioma Program, chaired a plenary session where clinical trial results from novel targeted and immunotherapy agents tested for rare cancer were presented and discussed.
Samuel Volchenboum, MD, PhD, MS
, Associate Professor of Pediatrics, Associate Director, Institute for Translational Medicine, presented in a major symposium with a theme of "Using Real World Evidence to Advance Pediatric Cancer Drug Development."
Yuxuan Miao, PhD
, Assistant Professor in the Ben May Department of Cancer Research, Committee on Cancer Biology, who was the recipient of the AACR Gertrude B. Elion Cancer Research Award in 2022, presented this year at the Awards and Lectures session on identifying the root of cancer immune resistance.
Long Nguyen, MD, PhD, Postdoctoral Scholar in the
Rosner Lab
, recipient of the Scholar in Training Award, presented a poster on the role of BACH1 in regulation of hypoxia in triple-negative breast cancer.
M. Eileen Dolan, PhD
, Professor of Medicine, and the Deputy Director of the Comprehensive Cancer Center, led a team of students from the cancer center's
pathway programs for high school and undergraduate students
, many of whom presented research at an undergraduate poster session.
In total, 21 basic and clinical cancer research posters were presented by trainees from various cancer research labs. The full list of UChicago presentations at AACR can be found
here
.
The next AACR Annual Meeting will take place April 5-10, 2024 in San Diego, California.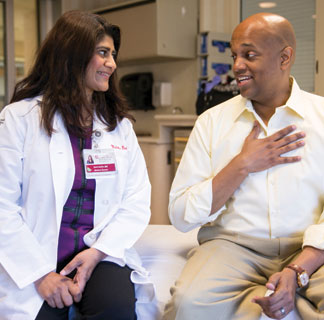 UChicago Medicine Comprehensive Cancer Center
UChicago Medicine is designated as a Comprehensive Cancer Center by the National Cancer Institute, the most prestigious recognition possible for a cancer institution. We have more than 200 physicians and scientists dedicated to defeating cancer.
Learn More About the Comprehensive Cancer Center