Skip to content
84 UChicago Medicine physicians make 2019 'Top Cancer Docs' list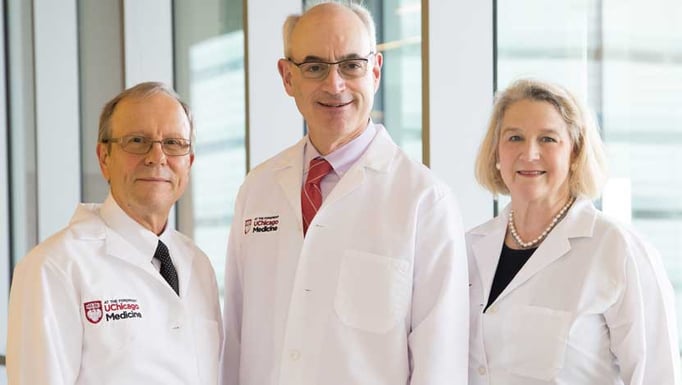 From left to right, radiation oncologist Daniel Haraf, MD, medical oncologist Everett Vokes, MD, and head and neck surgeon Elizabeth Blair, MD. These three physicians — plus 81 other UChicago Medicine cancer experts — were named to Chicago magazine's 2019 "Top Cancer Docs" list.
This year, 84 University of Chicago Medicine physicians were acknowledged for being at the forefront of cancer care by being named to Chicago magazine's 2019 list of top cancer doctors – the most of any Chicago-area health system. A total of 396 physicians made the list.
This special edition of the publication's annual "Top Docs" list highlights the top cancer doctors in the Chicagoland area as selected by their peers and through consideration of a number of factors such as clinical excellence, bedside manner, education and board certification. Data are collected and analyzed by the research company Castle Connolly Medical.
UChicago Medicine is designated as a Comprehensive Cancer Center by the National Cancer Institute, the highest federal rating a cancer center can achieve. It's the gold standard for cancer programs and is bestowed upon the nation's top cancer centers in recognition of their innovative research and leading-edge treatments. UChicago Medicine is one of only two NCI-designated Comprehensive Cancer Centers in Chicago.
View Chicago magazine's full list and see UChicago Medicine's "Top Cancer Docs" below.
Cardiovascular Disease
Jeanne DeCara, MD
Colon & Rectal Surgery
Neil H. Hyman, MD
Dermatology
Diana Bolotin, MD, PhD
Christopher R. Shea, MD
Diagnostic Radiology
Abraham H. Dachman, MD
Heber MacMahon, MBBCh
Gregory Scott Stacy, MD
Endocrinology, Diabetes & Metabolism
Ronald N. Cohen, MD
David H. Sarne, MD
Gastroenterology
Irving Waxman, MD
Gynecologic Oncology
Nita Karnik Lee, MD
Ernst Lengyel, MD, PhD
S. Diane Yamada, MD
Hematology
Christopher Daugherty, MD
Richard A. Larson, MD
Hongtao Liu, MD, PhD
Sonali M. Smith, MD
Wendy Stock, MD
Hospice & Palliative Medicine
Monica Malec, MD
Medical Oncology
Michael Bishop, MD
Simona Chivu, MD (Silver Cross)
Gini Fleming, MD
Thomas F. Gajewski, MD, PhD
Lucy Godley, MD, PhD
Olwen Hahn, MD
Philip C. Hoffman, MD
Andrzej Jakubowiak, MD, PhD
Hedy Lee Kindler, MD
Justin Kline, MD
Rita Nanda, MD
Olatoyosi Odenike, MD
Olufunmilayo I. Olopade, MD
Jyoti D. Patel, MD
Blase Polite, MD
Mark J. Ratain, MD
Walter M. Stadler, MD
Russell Szmulewitz, MD
Michael J. Thirman, MD
Everett E. Vokes, MD
James Wallace, MD
Orthopaedic Surgery
Rex Haydon, MD, PhD
Otolaryngology
Nishant Agrawal, MD
Elizabeth Blair, MD
Louis de Guzman Portugal, MD
Pain Medicine
Magdalena Anitescu, MD, PhD
Pathology
Daniel A. Arber, MD
Anthony Chang, MD
John Hart, MD
Pediatric Hematology & Oncology
Eric Beyer, MD, PhD
Susan L. Cohn, MD
John M. Cunningham, MD
Jill de Jong, MD
Tara Henderson, MD
James LaBelle, MD, PhD
Jennifer McNeer, MD
Samuel Volchenboum, MD, PhD
Pediatric Surgery
Nikunj K. Chokshi, MD
Jessica J. Kandel, MD
Grace Mak, MD
Mark Slidell, MD
Plastic Surgery
David W. Chang, MD
Raphael C. Lee, MD
Lawrence S. Zachary, MD
Radiation Oncology
Steven J. Chmura, MD, PhD
Philip Connell, MD
Daniel J. Haraf, MD
Yasmin Hasan, MD
Stanley Liauw, MD
Anne R. McCall, MD (Silver Cross)
Michael Spiotto, MD, PhD
Surgery
Peter Angelos, MD, PhD
John Fung, MD, PhD
Roger D. Hurst, MD
Nora Jaskowiak, MD
J. Michael Millis, MD
Kevin Roggin, MD
Mitchell C. Posner, MD
Thoracic & Cardiac Surgery
Jessica Donington, MD
Mark K. Ferguson, MD
Urology
Scott Eggener, MD
Arieh L. Shalhav, MD
Gregory Zagaja, MD
Vascular & Interventional Radiology
Thuong Van Ha, MD