Skip to content
Chef triumphs over tongue cancer and in the culinary world
Chef Grant Achatz: Together We Answer Cancer
[SOFT MUSIC PLAYING] I noticed a small, white dot on the side of my tongue. And they said, oh, you're young. You just had your first child. You're working 16 hours a day in a high stress environment. Eating and swallowing was very difficult. And it became very clear that there was something more sinister going on than just stress.
And in the beginning, I was met with a very antiquated approach. There was nothing creative going on. It seemed incredibly barbaric to me.
[MUSIC CONTINUES]
[MUSIC PLAYING]
I got a call from the team there and talked to them briefly on the phone, found the clinical trial, read about it, and said, this is exactly what I was looking for. And Grant said, no, I'm done. Like, we made that decision. It was a very difficult decision. And I'm done. And I said, like, one more.
And we sat in a room with Dr. Vokes and Dr. Haraf, Dr. Blair. And first of all, I was surprised because I had been to about four major institutions prior to going to the University of Chicago. And I only met with one doctor each time. And here we were in this room with a team, with three doctors-- each in their own specialty, but clearly working together.
I still don't understand how surgeons say, the only anything we can do is cut your tongue out. We have to cut your tongue out. First step, cut your tongue out. And I go, why should that be the first step? Why should you sacrifice that important organ-- not only for Grant, who was a chef and needs it for his culinary abilities, but for an average guy that wants to talk or kiss his wife.
And so at no point here do we rule out surgery. We have brilliant surgeons. But it is not what we want to do first. And so what we already had experience with at the time was to start out with chemotherapy to try and tame this tumor-- to take the inflammation down, to take the size down-- and then go in with chemotherapy and radiation.
And so we were concerned at the time that even though we gave the patient chemo and radiation therapy, if it came back in a lymph node, or maybe it was like 90% gone in the lymph node, if it regrew, it would be much harder to treat.
[MUSIC CONTINUES]
[VOCALIZING]
Years and years and years later, it really helped me become a better chef, engendering the spirit of teamwork, allowing us to grow, take wonderful ideas from other members of the team and implement them into our programs. So really, that individualistic approach-- it never gets you far. You have to work as a team in order to succeed. And, again, it's the same in the restaurant. I feel strongly it's the same in the medical profession.
Oh, I think the reentry into normalcy takes a long time. It's a very mentally challenging experience to go through. But I mean, he's got tons of advocates. And it's been great.
[VOCALIZING]
There was a lot of, obviously, anxiety about, not only was I going to live or die, but was I going to be able to continue my life's passion? And now all of that's dispelled. I've been doing what I love to do for 12 years since treatment. And I think the restaurant, me as a person, me as a chef, are better than ever.
[MUSIC FADES]
In 2007, chef and restaurateur Grant Achatz was 33 and a rising star. Alinea, his imaginative and multi-sensory restaurant in Lincoln Park, was receiving rave reviews within two years of its opening, including being named best restaurant in America by Gourmet magazine.
He was lauded as a pioneer in molecular gastronomy.
Then, Achatz learned that a painful spot on his tongue was stage 4 cancer. The diagnosis threatened his sense of taste, his livelihood and his life.
"I was determined to find the best possible treatment," he said. "But I never expected to find it in my own backyard."
He and his close friend and business partner, Nick Kokonas, consulted several cancer centers across the country.
"We did a rigorous investigation of treatments," Achatz said. "But at every turn, I was met with what I thought was a very antiquated approach. The treatments didn't seem creative or thoughtful."
At each of the hospitals, doctors recommended invasive surgery for the cancerous tumor. The procedure involved removal and reconstruction of 70% of his tongue. He'd lose his ability to taste. If he chose not to have the surgery, doctors told him, the advanced cancer could take his life within six months.
Reason for optimism
Back home, Kokonas urged his friend to go to the University of Chicago Medicine for yet another consultation. Achatz refused. He was emotionally and psychologically tired of having heard the same grim news over and over.
Kokonas didn't give up.
"I literally went over to Grant's house, beat on the door, and said 'I'm going to kick it in, so you might as well come with me,'" Kokonas said. "And then when we sat down with the team at UChicago Medicine, what we heard was completely different."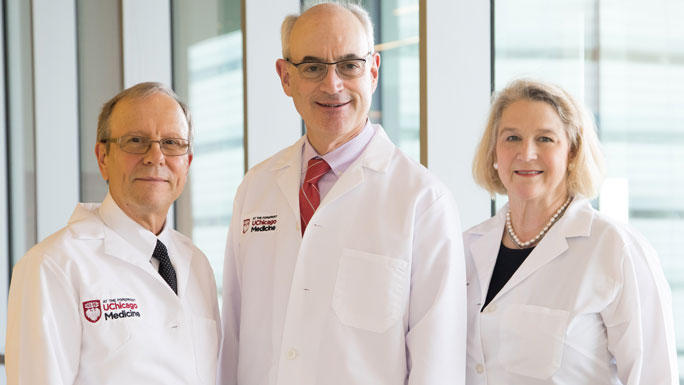 The head and neck cancer team of medical oncologist Everett Vokes, MD, radiation oncologist Daniel Haraf, MD, and surgeon Elizabeth Blair, MD, proposed an alternative strategy to the young chef.
"We offered Grant the opportunity to participate in a clinical trial," Vokes said. "Treatment would start with chemotherapy to tame the tumor — taking the inflammation and the size down — followed by chemotherapy and radiation. If needed, the radical surgery could come later."
Achatz signed on immediately.
"Everything I had been told up to this point was flipped upside down," he said. "The surgery became 'only if necessary.' And there was talk of new technologies and creative medicine."
He finally had a reason to be optimistic.
A unified goal
Achatz underwent eight weeks of chemotherapy followed by six weeks of radiation and chemotherapy. The treatments were grueling, but effective in first shrinking the tumor and then destroying it.
To ensure there was no microscopic disease left, Blair then performed surgery to remove the lymph nodes in his neck.
My three doctors — each in their own specialty — offered me a very individualized, yet team approach. I felt confident in them and in myself that I made the right decision.
Achatz lost his ability to taste during treatment, and for several months afterward. But he remained committed to his work, continuing to put in long hours at Alinea.
"We all had this unified goal of being the best restaurant in America," he said. "It felt like I had to show up every day and prove to the staff that we were going to continue on the path of being the best. Otherwise, I would have let them down."
During this time, he learned some valuable lessons about the importance of teamwork. "As the effects of cancer treatment took hold, I realized I couldn't do it all myself," he said. "Rather than making every decision in Alinea's kitchen, I began to trust more in my staff. I learned you have to work as a team to succeed."
Achatz appreciated that his doctors functioned the same way.
"My illness required a lot of creative people working together to solve the problem," he said. "My three doctors — each in their own specialty — offered me a very individualized, yet team approach. I felt confident in them and in myself that I made the right decision."
Pushing boundaries in dining and in medicine
Just a few months after the medical team told Achatz he was cancer free, the James Beard Foundation named him the best chef in America. Alinea has won many more national and international accolades including a Michelin three-star rating — the only restaurant in Chicago with the honor.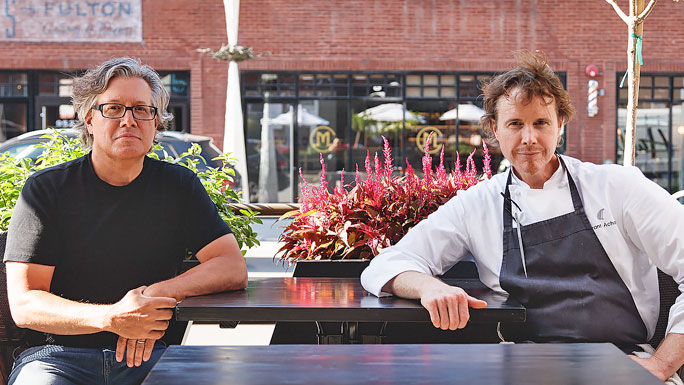 Achatz and Kokonas continue to reimagine fine dining and drinking through concepts such as Next, the Aviary and the St. Clair Supper Club.
The motto of their restaurant group is constant evolution. "We break down normal protocols, and reformulate them in a way that's more meaningful and more powerful," Achatz said.
"My doctors at UChicago Medicine did the same thing. It felt comforting and it resonated with me."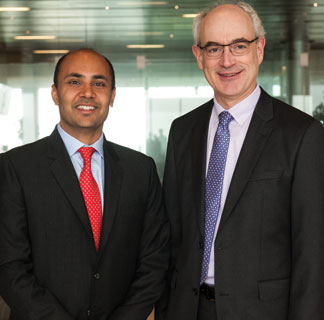 Head and Neck Cancer Care
UChicago Medicine pioneered several breakthroughs in the treatment of head and neck cancer, including organ-sparing combined radiation and chemotherapy approaches that can cure locally advanced head and neck cancers while preserving critical functions such as speech and swallowing.
Explore our head and neck cancer care program
Head & Neck Cancer Articles