Skip to content
Cancer and COVID-19: the impact of missed screenings in vulnerable communities
The COVID-19 pandemic has led to steep declines in cancer screenings, particularly in underserved communities, which have led to decreased diagnoses and could result in thousands of deaths, worsening cancer disparities.
It has been over a year since the COVID-19 pandemic created an unprecedented public health crisis throughout the world. Although the immediate threat of COVID-19 has decreased due to vaccination efforts, its devastating effects will be felt for years to come. Especially concerning is the drop in cancer screening rates, with the most dramatic reduction in screening occurring in medically underserved communities. This has led to decreases in diagnosis and treatment and is expected to result in thousands of preventable deaths.
According to the Centers for Disease Control and Prevention, the screening rates for breast and cervical cancers fell by more than 80%, with the most severe declines occurring in populations of low-income women of color.
The threat of worsening cancer outcomes has been recognized by the international cancer research community as a leading priority. In a June 2020 editorial, Norman E. Sharpless, MD, director of the National Cancer Institute, expressed concerns about the mortality related to breast and colorectal cancer in particular. Early projections showed that if these trends continue, mortality for these cancer types is expected to increase by nearly 10,000 in the next 10 years in the U.S. alone as a result of missed cancer screenings and treatment, assuming a disruption of 6 months. However, the pandemic has lasted far longer than anyone anticipated, so the effects could be greater.
It is not surprising that the underserved communities comprising Black and Hispanic people are disproportionately affected, according to Nita Lee, MD, MPH, associate professor of obstetrics and gynecology, and Blase Polite, MD, professor of medicine, at the University of Chicago Medicine Comprehensive Cancer Center, who have been working in the field of cancer disparities for decades.
Polite said, "Even before the pandemic, healthcare disparities such as lower screening rates and higher mortality rates for some cancers were apparent in medically underserved communities due to the lack of access to quality care."
He added, "Loss of income and health insurance during the pandemic has exposed a fragmented health system that has failed to provide a safety net to these communities," said Polite.
According to Lee, "If people had health issues or COVID-19 or if their loved ones are suffering from COVID-19, cancer screening might not be a priority for them over other necessities," she said.
"People in vulnerable populations already have to make tough decisions about the use of inadequate resources. For instance, many people may lack easy access to transportation, or not be able to take time off from work or from caring for family members, and these difficulties have only been worsened by the pandemic."
Lee said addressing these problems will need creative solutions. She added that the community-based and public health avenues that have been emergently activated for creating awareness about COVID-19 should also be used to spread awareness about cancer screening and detection to minimize preventable cancer- related deaths.
Even before the pandemic, healthcare disparities such as lower screening rates and higher mortality rates for some cancers were apparent in medically underserved communities due to the lack of access to quality care.
A key part of the Comprehensive Cancer Center's mission is to promote cancer health equity among all populations and communities, especially among groups where there are known cancer disparities based on race, ethnicity, language and geographic location. The team of experts specializes in cancer control, prevention and population research while implementing new approaches to screening and prevention. But because of COVID-19, now more than ever, it is critical that they encourage local residents to adopt a healthy lifestyle that includes cancer screenings.
Through the Office of Community Engagement and Cancer Health Equity (OCECHE), the Comprehensive Cancer Center has ramped up its activities that inform and empower community members to take charge of evidence-based cancer prevention strategies. The group meets monthly with its Community Advisory Board (CAB) to address concerns and actively partner to address issues of concern for community cancer needs. This year, much focus has been on addressing questions related to the COVID-19 crisis, the COVID-19 vaccine and resources for cancer patients. CAB members include active community partners — including leaders of federally qualified health centers, nonprofit cancer advocacy organizations, cancer survivors and advocates, local cancer support centers, and religious and cultural organizations with a focus on the needs of cancer patients throughout the cancer care trajectory.
"With our strong ties to community organizations, we can identify what residents need to stay safe and healthy so that we can help connect them with the appropriate resources and support during this extremely challenging time," said Karen Kim, MD, vice provost for research and associate director for community outreach and engagement for the Comprehensive Cancer Center.
Although face-to-face meetings are still the best way to communicate, the OCECHE team has adapted an all-digital approach to community engagement and health education.
For example, community health worker trainings are an integral part of the OCECHE community cancer education offerings. In response to the COVID-19 crisis, OCECHE partnered with Comprehensive Cancer Center member Marcia Tan, PhD, assistant professor of public health sciences, and City Colleges of Chicago to deliver a virtual tobacco cessation module for the 20-hour Community Health Worker (CHW) certificate program at Malcolm X College on the Near West Side. Tan discussed her research and strategies to help patients quit tobacco. One-hundred percent of participants reported knowledge gains and are interested in more virtual education opportunities with the Comprehensive Cancer Center.
Additional modules are being planned for the CHW certificate programs at Malcolm X and Olive Harvey College.
OCECHE is the recipient of a National Cancer Institute Community Health Educators (CHE) grant, which allows the department to host in-person education sessions on colorectal cancer screening, HPV vaccine for cancer prevention and cancer clinical trials. With the COVID-19 crisis preventing live education, OCECHE has moved its entire CHE program to virtual platforms to remain engaged with the community and provide critical cancer education.
OCECHE also developed a series of faculty-led webinar presentations and discussions for cancer patients, survivors and caregivers, offering suggestions for staying safe and managing the additional stress of dealing with cancer during a pandemic.
The topics included breast cancer, presented by Olufunmilayo Olopade, MD, and Sheila Rajagopal, MD; gynecologic cancers, presented by Lee; colorectal cancer, presented by Polite; and lung cancer, presented by Jessica Donington, MD, among others. The webinars for cancer education for both employees and community members are ongoing.
Moving forward, whether efforts are done in-person or virtually, Lee and Polite emphasize that medically underserved populations face an urgent need for solutions to the cancer care challenges exacerbated by the COVID-19 pandemic, and that the medical community must prioritize the reduction of cancer health disparities.
Don't Wait to Get Screened for Cancer
When cancer is detected at an early stage, there's a greater chance for treatment success. At UChicago Medicine, we provide the full range of cancer screening services, and can help you determine which options are right for you and when you should be tested.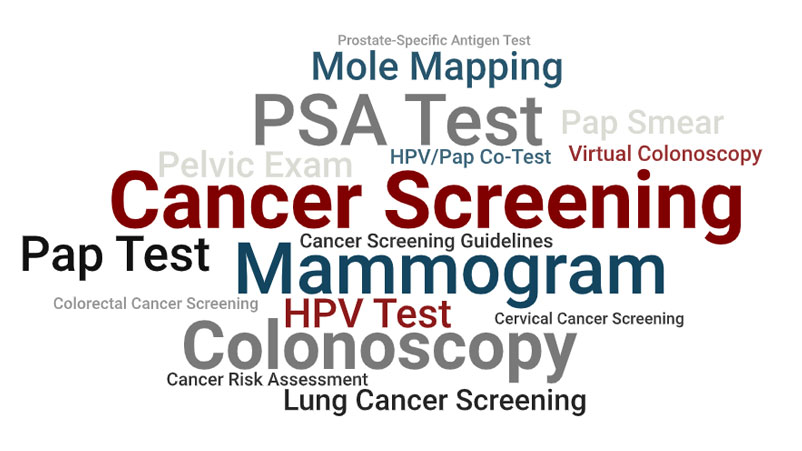 Prevention & Screening Articles