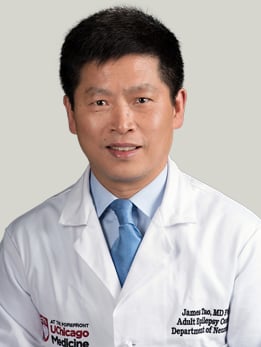 Associate Professor of Neurology Co-Director, Comprehensive Epilepsy Center
Director, Electroencephalography Laboratory
UChicago Faculty Physicians hold faculty positions with the University of Chicago and provide care for patients on the academic health system's main campus in Hyde Park and in care centers throughout the Chicago region.
Close
773-702-6222
James Tao, MD, PhD specializes in the diagnosis and management of seizures and epilepsy. He is the director of adult epilepsy center and the clinical neurophysiology Laboratory at the University of Chicago. Dr. Tao is highly skilled in the use of surgery and neurostimulation devices for treating patients with medically resistant epilepsy, with a particular interest in the minimally invasive surgery such as laser surgery.
His clinical research focuses on the use of electrophysiology and different types of neuroimaging to localize the seizure focus and guide epilepsy surgery. Dr. Tao is also interested in the mechanism and prevention of sudden unexpected death in epilepsy (SUDEP), which is the leading cause of mortality in patients with chronic uncontrolled epilepsy. Dr. Tao is well-published in peer-reviewed journals, such as JAMA, Neurology, Epilepsia, Neuron, Neurosurgery, J Neurol Neurosurg Psychiatry, Seizure, and Epilepsy & Behavior.
Dr. Tao is also involved in the education of medical students, residents and fellows. He is the director of clinical neurophysiology fellowship program. Dr. Tao has given many lectures during didactic teaching and grand rounds, as well as an invited lecturer nationally and internationally.