The Future of Minimally Invasive Care
Interventional radiology is a field of medicine in which minimally invasive procedures are performed using image guidance. Interventional radiology is one of the biggest advances in the medical field, offering treatments with less risk and less pain and shorter hospital stays than surgery. Vascular and interventional radiology is one of the most rapidly expanding areas in medicine and has led the current movement toward minimally invasive therapy. Our patient population ranges from infancy to the elderly and includes procedures spanning the full range of the field.

During most procedures, an interventional radiologist will use different imaging methods (e.g., CT, fluoroscopy, ultrasound) to direct a thin wire and catheter through a specific location in the body to treat or diagnose disease. With the use of different imaging methods, our interventional radiologists are able to manipulate and guide tiny instruments throughout the body, without the need for surgical incisions.
Innovative Care
Interventional radiologists are board-certified physicians who are trained in both medical imagining and minimally invasive therapies. They deliver accurate, targeted treatments to complex and sometimes life-threatening diseases and conditions. Interventional radiology is a treatment option for conditions such as cardiovascular disease, stroke, cancer, uterine fibroids, varicose veins and many other common medical issues.
Advancements in technology and imaging have created new treatment options for patients. There is no "right way" to treat your condition. If you are a candidate for open surgery of have a complex disease, consider exploring your treatment options with an interventional radiologist. Interventional radiology can be an especially appropriate choice for patients who are in weak health or have previously undergone numerous prior surgeries.
[MUSIC PLAYING] What is interventional radiology? Interventional radiology is a rapidly growing high tech field of medicine which uses minimally invasive procedures instead of surgery to treat a variety of conditions, including cancer. Interventional radiology, sometimes called IR, is a desirable option for many patients. Compared to an open surgery, interventional radiology involves less pain, reduced risk of complications, and shortened hospital stays. Most IR procedures are outpatient with little or no recovery time.
Interventional radiologists do these procedures by inserting very small instruments like needles, wires, or catheters into an artery or vein. Through a tiny hole no bigger than a few millimeters, interventional radiologists can reach nearly every organ in the body to perform procedures. There's no need for large surgical incisions.
Doctors use live medical imaging such as x-rays or ultrasounds to guide their instruments inside the body. At the University of Chicago Medicine, IR can deliver radiation or chemotherapy or heat directly to cancerous tumors in the liver, kidneys, or lungs, minimizing exposure to help the organs and tissue. Interventional radiology can treat symptoms of an enlarged prostate by injecting tiny microspheres into the prostate artery. The blood flow to the prostate can be cut off, causing it to shrink.
IR can stop severe menstrual bleeding or pain caused by uterine fibroids. Doctors halt blood flow to the fibroids and cause them to shrink, avoiding the need for a hysterectomy. An IR procedure called endoAVF connects an artery to a vein, providing stronger wider veins for kidney dialysis. It's done using specialized catheters including some with magnets, so there's no need for an incision in the arm.
Interventional radiology is used to treat patients of all ages from small children to seniors. It's also a good option for patients who are in poor health or have undergone numerous prior surgeries. If a patient chooses interventional radiology at UChicago Medicine, they will be in good hands. UChicago Medicine's interventional radiology program is one of the most comprehensive in the nation. Our interventional radiology team includes nationally and internationally renowned doctors in the field.
[MUSIC PLAYING]
To learn more about our interventional radiology program, visit www.uchicagomedicine.org/ir or call us at 888-824-0200.
[MUSIC PLAYING]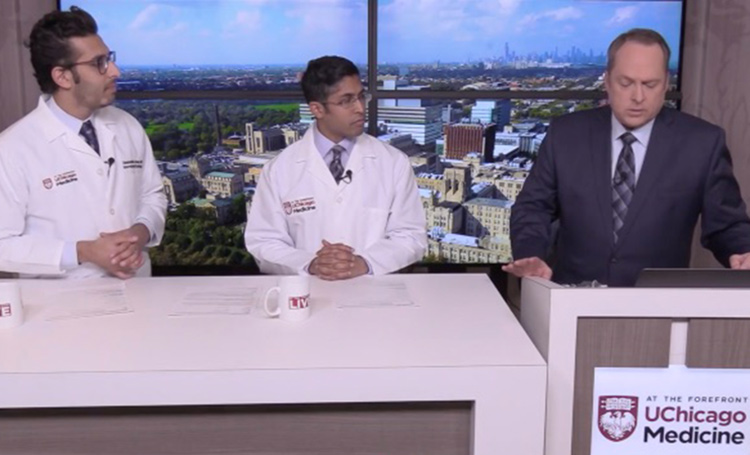 Health & Science Articles