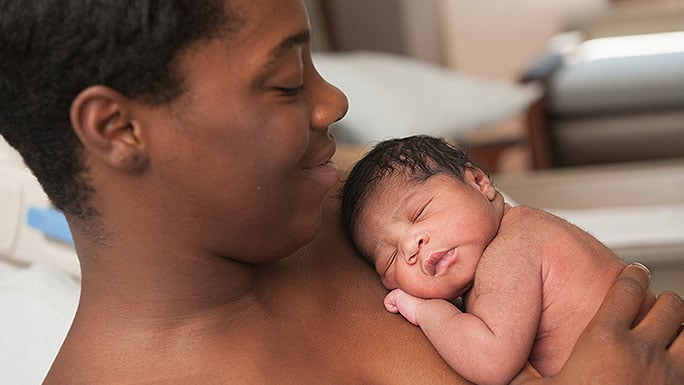 Skin-to-skin is one of the first recommended steps to encourage bonding between babies and parents at birth. As soon as possible after delivery, we place your baby on your bare chest and cover the baby.
At the Family Birth Center, we encourage immediate skin-to-skin with moms and dads after vaginal and cesarean deliveries (C-sections). If you choose delayed cord clamping, you can even start skin-to-skin before the umbilical cord is cut. Sometimes other family members, such as siblings or grandparents, practice skin-to-skin with newborns, as well.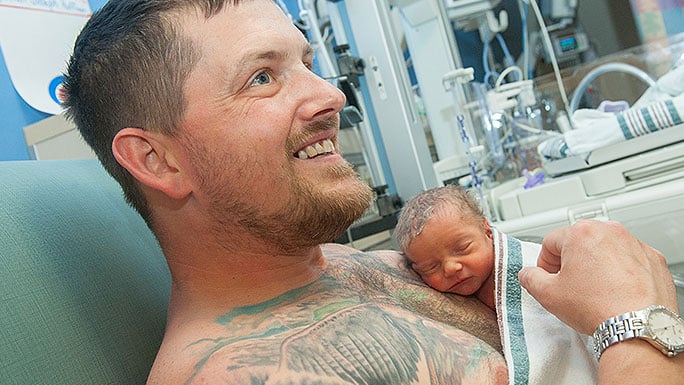 Why Skin-to-Skin?
Skin-to-skin is associated with many favorable results. There is considerable evidence that this practice:
Promotes bonding
Promotes breastfeeding
Regulates heart rate, breathing rate and blood sugar levels
Provides immune protection from your natural skin bacteria
Warms and cools your chest in response to your baby's temperature
Reduces crying and allows your baby to hear your heart rate
We generally recommend that babies stay skin-to-skin until the first feeding, then as much as possible during your hospital stay and at home.