At the University of Chicago Fetal and Neonatal Care Center, our team of experts specializes in leading diagnostic techniques and treatments for complex fetal disorders. Our multidisciplinary team will evaluate and diagnose complex fetal conditions, counsel you about your options, and provide a management plan including medical and surgical options. Our approach is grounded in a longstanding tradition of pioneering clinical care and scientific research breakthroughs involving obstetrics and pediatric specialists including pediatric surgeons and neonatologists.
Highest Level of Complex Fetal & Newborn Care
When the baby you're carrying faces critical health challenges, we understand that nothing matters more to you than finding exceptional care to evaluate and manage these complex findings.
We offer:
A dedicated coordinator to streamline appointments and communication with your care team

Important evaluations and procedures conveniently scheduled on the same day as your first appointment

A team of pediatric experts — including surgeons and other specialists — collaborating on a personalized care plan specific to your baby's diagnosis

Exceptional high-risk prenatal care close to home, including office locations in greater Chicago and Northwest Indiana

Specialized NICU care after the delivery of your baby
We recognize how stressful a pregnancy journey can be — particularly, when uncertainty is involved. At the Fetal and Neonatal Care Center, our team provides personalized attention to ensure that you understand your care plan every step along the way.
Brochure: Fetal and Neonatal Care Center
Why Choose Us for Your Baby's Care
We partner the latest innovative treatments for complex fetal conditions with our long-standing mission to provide the most personalized, compassionate care. We're ready to help you and your baby, from the day you begin your diagnostic tests to the day you deliver — and beyond.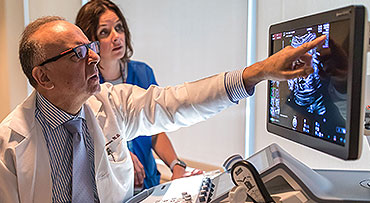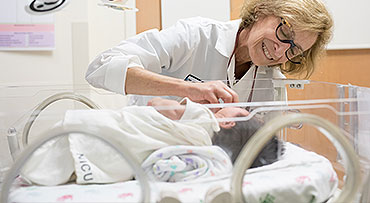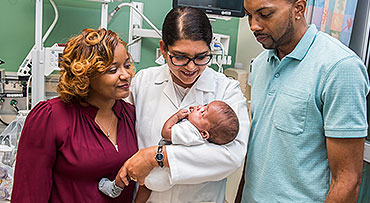 Close Dialog
Fetal & Neonatal Conditions
With unparalleled expertise in conducting and interpreting fetal ultrasounds, echocardiograms and MRIs, we offer the highest level of care to diagnose and manage complex fetal conditions — coupled with extensive, personalized family support.
Coordinating Your Care
Our center provides tailored care coordination with consistent follow-up communication, ensuring that each patient understands the diagnosis and plan of care and has direct access to her care team. Additionally, our renowned ethics and palliative care program provides support and decision-making guidance every step of the way.
Leading up to delivery, you and your family will participate in a multidisciplinary meeting with all specialists involved in your care to review your plan and answer any questions.
Streamlined NICU Care
We're one of few hospitals in Illinois with a Level IV Neonatal Intensive Care Unit just steps away from our labor suites. This means we provide seamless care and transition to the NICU during high-risk deliveries of newborns experiencing the most complex and acute conditions or illnesses.


Specialized Pediatric Surgical Evaluation & Expertise
All of our pediatric surgical specialists are available under the same roof, making them conveniently accessible for rapid consultations or emergencies.
Convenient Locations for Maternal-Fetal Care
Request an Appointment
You can also schedule an appointment instantly for in-person and video visits through our online scheduling portal.
The information you provide will enable us to assist you as efficiently as possible. A representative will contact you within one to two business days to help you schedule an appointment.
To speak to someone directly, please call 1-888-824-0200. If you have symptoms of an urgent nature, please call your doctor or go to the emergency room immediately.
Maternal-Fetal Medicine Articles & News