The University of Chicago Medicine is home to the largest — and one of the most respected — heart failure programs in Illinois. It is also home to the country's most experienced and comprehensive programs for patients with pulmonary hypertension (PH).
Patients with PH have high blood pressure in the arteries that goes from their heart to their lungs. This forces the heart to work harder to pump blood through the lungs. Over time, the heart can weaken or fail completely.
State-of-the-art treatment for this uncommon, but potentially fatal condition is available at only a few centers in the nation, including UChicago Medicine. Here, our doctors provide the most advanced care available, based on more than 30 years of experience with PH. We treat more than 1,000 patients each year, making us one of the largest centers in the world.
Our staff members are leading authorities in all types of pulmonary hypertension. This includes:
Idiopathic and familial pulmonary arterial hypertension, formerly known as primary pulmonary hypertension, which is a rare condition that may be caused by a genetic defect.
Associated pulmonary arterial hypertension, which includes cases linked to connective tissue diseases (lupus and scleroderma), congenital heart disease, diet pills, HIV and liver disease.
Other pulmonary hypertension categories (formerly termed secondary), which include cases related to heart disease, blood clots, intrinsic lung disease and sleep disorders.
Pulmonary hypertension in children, which can sometimes be in conjunction with birth defects.
UChicago Medicine has an integrated, multidisciplinary team to effectively diagnose and treat PH. This team includes internationally recognized cardiologists who are experts in PH, pulmonologists recognized as experts in PH related to pulmonary conditions, as well as specially trained nurses who provide helpful assistance and support to families.
Diagnosing & Treating Pulmonary Hypertension
Your doctor may suspect that you have PH based on noninvasive tests, such as an X-ray or echocardiogram. Because an accurate diagnosis is critical to your care, you may need additional tests to rule out other possible heart problems. Our team often recommends several tests, including a cardiac catheterization. This allows doctors to diagnose PH and determine the best treatment plan, tailored specifically for each patient.
Our doctors also perform noninvasive pulmonary angiograms using the latest generation of computed tomography (CT) technology. UChicago Medicine was the first hospital in Illinois to use a 256-slice CT scanner. The scanner produces the fastest, clearest pictures of the heart and lungs available anywhere.
Other tests available to help detect PH include:
Blood tests that help track the disease and its response to treatments.
Exercise tests, to determine your exercise capacity.
Magnetic resonance imaging (MRI), which can be valuable in checking for any unusual heart conditions.
Perfusion lung scans, to check for blood clots that may contribute to PH.
Pulmonary function tests, which measure airflow in and out of your lungs.
Without treatment, people with PH are at risk for serious health problems. These include:
Heart failure
Blood clots
Fluid build-up in the lungs and legs
To manage these risks, our doctors have developed the latest courses of treatment for PH. Although the treatment plans are often complex, our doctors have experience in using these potentially life-saving therapies and monitoring patients' progress during follow-up.
Treatment options include a variety of oral and inhaled medicines, as well as an IV pump that delivers medication directly into the bloodstream. Some of these include:
Diuretics to rid your body of extra fluid that puts pressure on your heart
Anticoagulants, which help reduce blood clots
Calcium channel blockers, which are medicines originally developed to treat high blood pressure in the body. However, these drugs can be dangerous for some PH patients, so identifying the proper candidates is key.
Endothelin receptor antagonists, such as bosentan (Tracleer) and ambrisentan (Letairis), which help prevent blood vessels from narrowing
Phosphodiesterase inhibitors, such as sildenafil (Revatio) and tadalafil (Adcirc), to allow the lungs to produce more of their own natural vasodilators
Iloprost (Ventavis), which is an inhaled prostacyclin that can relieve shortness of breath
Treprostinil (Remodulin) and epoprostenol (Flolan), which are two intravenous medicines that open up the blood vessels and help ease symptoms of PH, including chest pain and shortness of breath
Our patients also have the opportunity to access the most promising therapies through clinical trials. People with PH travel from around the world to UChicago Medicine for treatment or a second opinion.
Why Choose UChicago Medicine for Pulmonary Hypertension
Evaluating and treating pulmonary hypertension (PH) can be very difficult. Our pulmonary hypertension team is considered one of the most knowledgeable in the world.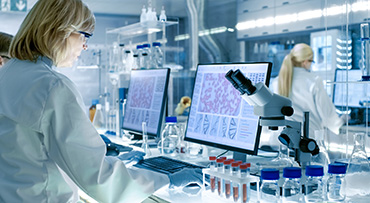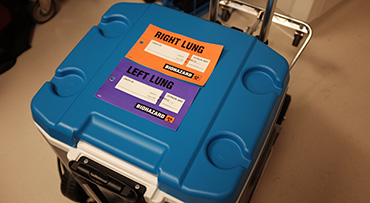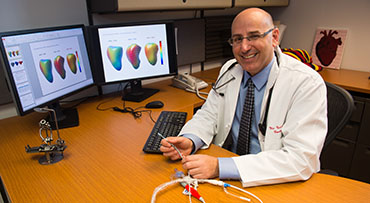 Close Dialog
Prioritizing Research
Our treatment team, in collaboration with our internationally known oncology drug development group, includes some of the first pioneers in pulmonary hypertension research. These doctors and nurses are actively involved in studies to better understand the many causes of this cardio-pulmonary disease, so patients benefit from scientific advances when and where they happen.
Our pulmonary hypertension researchers are also aggressively exploring a wide spectrum of treatments to reverse the disease, stabilize patients with advanced disease and improve quality of life. In addition, the team is developing an extensive biobank of blood specimens. This will allow them to determine the specific genes and mechanisms causing pulmonary hypertension in a given patient and biomarkers for disease progression to be used in both clinical and research practice.
Talented Transplant Team
UChicago Medicine is home to some of the most skilled heart and lung surgeons in the world. Our heart transplant program is one of the largest in the Midwest. In addition, we also have one of the most experienced lung transplantation programs for patients with refractory and end-stage pulmonary vascular diseases.
Heart Failure Experience
Each year, UChicago Medicine provides comprehensive care to hundreds of heart failure patients and helps them learn how to manage their symptoms so they can live the fullest lives possible. This expertise in heart failure complements the depth of knowledge our experts have with pulmonary hypertension, making this a uniquely balanced program for our patients.