Experts estimate nearly five million Americans have some form of a non-healing wound. Wounds that have not healed in 4 weeks, or completely resolved within 8 weeks, are called chronic wounds. Chronic wounds resist healing after months, and sometimes years, of traditional treatment. We offer leading-edge wound care services at our Hyde Park and UChicago Medicine Ingalls Memorial locations.
Not surprisingly, chronic wounds can exact a toll far beyond the pain and discomfort of the wound itself. They often cause individuals to lose their mobility, leading to a decline in general health and emotional well-being. Without effective treatment, chronic wound sufferers may become disabled, unable to work and dependent on care from their families.
Individual Assessments and Treatment
Patients will receive a thorough individualized assessment, a risk factor evaluation and education for wound care and prevention.
Following a full wound assessment and physician referral, we provide comprehensive care for:
Chronic non-healing wounds
Diabetic wounds and diabetes foot problems
Chronic bone infections
Arterial or venous problems
Skin grafts and flaps
Wounds related to blood loss (anemia)
Radiation injury
Burns
Ischemic ulcers
Lymphedema
Neuropathy
Colostomy – ileostomy + ileo conduits
Amputation complications
Pressure sores
Feeding tube management and replacement
Other common conditions treated are carbon monoxide poisoning, crush injuries, gas gangrene, necrotizing soft tissue infections and chronic osteomyelitis.
Additional Services
Specialized intervention and preventive measures
Integrated Home Care referrals
Onsite physical therapy for lymphedema and wound management
Lymphedema evaluation and management
Vacuum assisted closure
Ostomy clinic
Wound clinic
On-site prosthetics for amputations, shoes, orthotics and braces
Wound Care at UChicago Medicine Ingalls Memorial
Hyperbaric Oxygen Therapy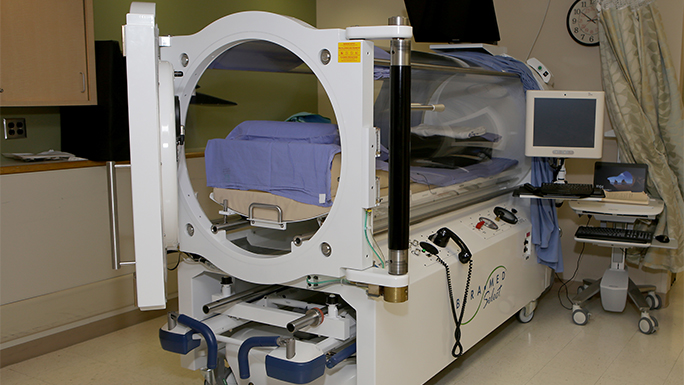 We offer hyperbaric oxygen therapy (HBOT) to treat chronic wounds. During hyperbaric oxygen therapy, a patient breathes pure oxygen while cradled in a special pressurized chamber. This allows greater amounts of oxygen to be dissolved into the bloodstream and carried to body tissues that need healing.
Our Harvey location has three hyperbaric chambers, capable of treating up to 15 patients a day.
Contact Us for Wound Care
To request an appointment at UChicago Medicine, please call: 1-888-824-0200
To request an appointment at Ingalls Memorial, please call: 855-826-3878
Find a Wound Center Location Near You
Health & Science Articles