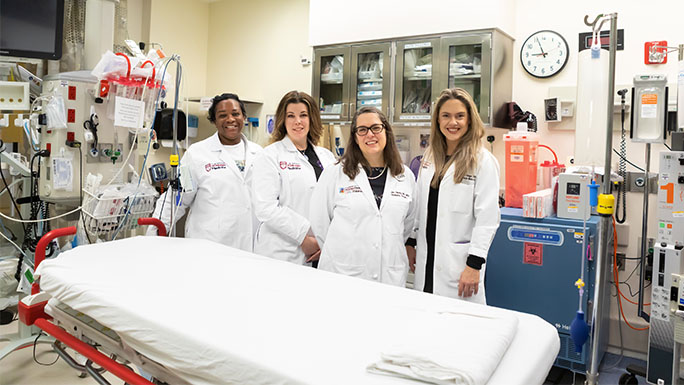 As the only Level I Pediatric Trauma Center on Chicago's South Side, the University of Chicago Medicine Comer Children's Hospital provides immediate, highly specialized pediatric emergency services, 24 hours a day, seven days a week. Our state-of-the-art pediatric emergency facility features the latest diagnostic and treatment equipment to provide comprehensive emergency care to children. Our children's emergency room, at 5730 S. Drexel Ave., is the primary entry point for pediatric trauma patients.

Our emergency medicine team treats more than 35,000 acutely ill or injured children and teens each year, including hundreds with complex trauma injuries. Fully equipped air medical transport is also available for critically injured patients in surrounding areas.
Experts in Caring for Sick & Injured Kids
Kids benefit from doctors who are experts in kids, not adults. The same is true when it comes to emergency care. Our dedicated, compassionate staff is committed to easing the burden of ill and injured children. The staff includes emergency pediatricians and pediatric surgeons, nurses, social workers and other professionals who are experienced in treating routine as well as complex medical issues in children.

Our young patients also benefit because our emergency department was designed with kids in mind. The décor is kid-friendly, and the equipment and supplies are kid-sized. This helps make children more comfortable during their hospital visit.

For children and teens who are critically ill and require continuing care after their visit to the trauma center, the hospital's nationally recognized Pediatric Intensive Care Unit (PICU) can provide needed medical services as well as support.
What Makes Us Special
Besides offering emergency care with a child-specific focus, we provide a wide range of services designed to enhance the health and welfare of children in the community.
Speedy Transport
The University of Chicago Aeromedical Network (UCAN) provides helicopter and ground transport to Comer Children's for patients within a 200-mile radius, covering much of Illinois, Indiana, Wisconsin and western Michigan. UCAN completes more than 1,000 transports yearly, primarily from community hospitals. UCAN is one of the few fully equipped air medical services in the United States that routinely includes a flight physician and nurse.
Assistance for Asthma
Uncontrolled asthma results in flare-ups, which frequently require a trip to the emergency room. Our specialists have developed an asthma discharge kit, a tool to help families to better manage a child's asthma. The kit — given to families of children with asthma who agree to participate in a research study — contains a variety of helpful resources, including educational brochures and tools to monitor their asthma. While in the ER, families also view a videotape that offers vital information about managing the disease.
Treating Trauma
The pediatric trauma service at Comer Children's is dedicated to providing optimal care for children suffering from significant traumatic injuries. Young trauma patients are rapidly evaluated and stabilized by a multidisciplinary team of professionals, including pediatric surgeons, pediatric emergency medicine specialists and pediatric critical care specialists. In addition, our spacious trauma suite also provides the most advanced facilities, allowing doctors to treat four trauma victims at the same time, if needed.
Comforting Kids
At Comer Children's, caring child life staff members and volunteers provide comfort to children who require emergency services. This helps ease the stress children experience and provides a welcome form of support for families.
Helping Build Healthier Families
Our specialists are committed to protecting the health and welfare of infants and children, even beyond the emergency setting. The hospital's Center for Healthy Families provides services to children younger than age 3 who have multiple medical needs or may be at risk because of social or family issues.
Protecting Children, Preventing Abuse
The hospital is also home to a renowned Child Protective Services team that identifies and treats victims of child abuse and neglect. Established in 1993, our CPS team is dedicated to ensuring that all children live in a safe environment. CPS provides consultation on a 24-hour basis to the hospital and community. Our approach is interdisciplinary, and our focus is to enhance the family's ability to ensure appropriate medical, environmental and emotional care of their children.
Meet Our Pediatric Emergency Medicine Team
Where Should I Go for Care Today?
You never know when a sudden injury or illness may happen. That's why it's so important to be prepared and know what steps you can take as soon as symptoms appear. Click below to learn more about the best times to visit primary care, urgent care or the emergency department.
Pediatric Articles & News