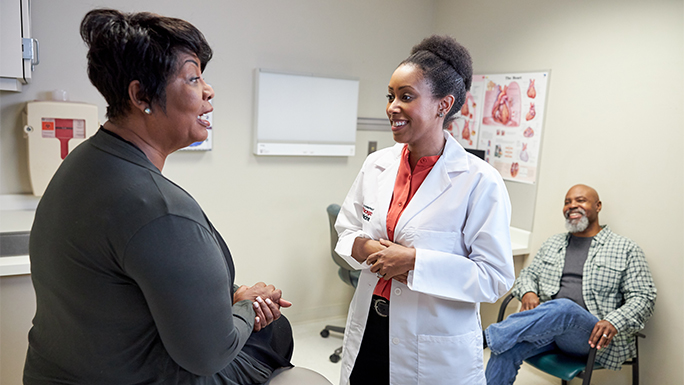 The University of Chicago Medicine vein experts offer the full spectrum of advanced options to treat venous conditions, including varicose veins, spider veins, chronic venous insufficiency, deep vein thrombosis, venous ulcers and more. Our vein experts, all board-certified vascular surgeons, are nationally known for their expertise and have the skills to treat even the most complex vein problems.
Whether you require care to relieve leg pain or you are seeking treatment for aesthetic reasons, UChicago Medicine's Vein Clinic provides the most advanced, comprehensive care. We emphasize minimally invasive solutions and can treat most vein problems on an outpatient basis.
Advanced Diagnostics
Noninvasive, painless diagnostic techniques are used to assess vein conditions. We use the latest ultrasound equipment, including color flow duplex ultrasound, which shows vein structure and the speed and direction of blood flow. Our vascular lab meets the highest standards and is accredited by the Intersocietal Commission for the Accreditation of Vascular Laboratories (ICAVL).
Vein Conditions
Telemedicine at UChicago Medicine

Schedule a Video Visit
For your convenience and safety, we offer secure and easy virtual visits for most non-urgent visit types. Our care providers can assess your symptoms, make a diagnosis, recommend treatment and send prescriptions to your pharmacy.

Get a Second Opinion Online
Whether you are facing a complex health issue or difficult treatment decision, getting a second opinion can help you make an informed decision about your care. Get an online second opinion from one of our experts without having to leave home.
Meet Our Vein Clinic Team
Find a Vein Clinic Location Near You
1101 S. Canal St.
Suite 201 & 202
Chicago, IL 60637
877-336-5667
Learn more about heart and vascular disease